Vandaag begint het eerste virtuele congres van de Asociación Europea de Profesores de Español. Het programma van vandaag is beschreven in het boletín van juli 2121: 13:45 Openingswoorden door Voorzitter Rafael del Moral 14:00 Openingstoespraak door Mar Abad van de Complutense Universiteit Madrid getiteld '¿Por qué amamos las palabras?' Gevolgd door de volgende lezingen: 15:00 Belén Álvarez García Universiteit van León (Spanje) '¿Cómo explicar el perfecto, el imperfecto y el indefinido?' 15:15 Cristina Herranz Universiteit Rey Juan Carlos Madrid en Ana Segovia Universiteit van Valladolid: 'Literatura en educación infantil: el caso de la Comunidad de Madrid' 15:30 Francisco Pedro Pla Universiteit van Jaén 'Paramiología e innovación didáctica. Métrica y refranes del Libro de buen amor'15:45 Laura Arroyo Universiteit Rey Juan Carlos Madrid 'El léxico gastronómico en el aula de ELE: ¿Una sabrosa propuesta?'16:00 Lo Hsueh (Lucía) Providence Universiteit (Taiwan) 'Modelos de redaccción narrativa para orientar la escritura de los estudiantes taiwaneses del español como lengua extranjera' 16:15 Betsabé Navarro Universiteit van Tennessee, Knoxville (Verenigde Staten) 'Identidad cultural en relatos de mujeres afroespañolas Metamba Miago y la lucha por la integración de las mujeres negras en España hoy' 16:30 Jacinto González Autonome Universiteit van Madrid 'La ¿integración? de los textos literarios en los métodos comunicativos'16:45 Nydia Y. Jeffers Universiteit van Nebraska Lincoln (Verenigde Staten) 'Preguntas sobre "Las Meninas" de Velázquez para la clase de español' 17:00 Yun Tin (Celia) Huang Providence Universiteit (Taiwan) 'La aplicación del aula invertida como propuesta metodológica en el aprendizaje de gramática de ELE' 17:15 Jacinto González Autonome Universiteit van Madrid 'Llevar a cuestas, llevar a cucho… La variación fraseológica en el español rural' 17:30 Raquel Fernández Universiteit van Salamanca 'Ricardo Piglia en las revistas culturales Un acercamiento a su crítica para entender la ficción' 17:45 Santiago Vicente Universiteit van Valencia 'Hacia una didáctica de la emoción poética A propósito del poemario póstumo Sirenas (2011) de Ángel González'
Vanuit deze achtergrond memoreer ik aansluitend aan MIJN VERBINDENDE ELEMENTEN D.D. 25 JULI VANAF 1995 mijn verbindende elementen d.d. 26 juli vanaf 1996 tot en met 2012: 1996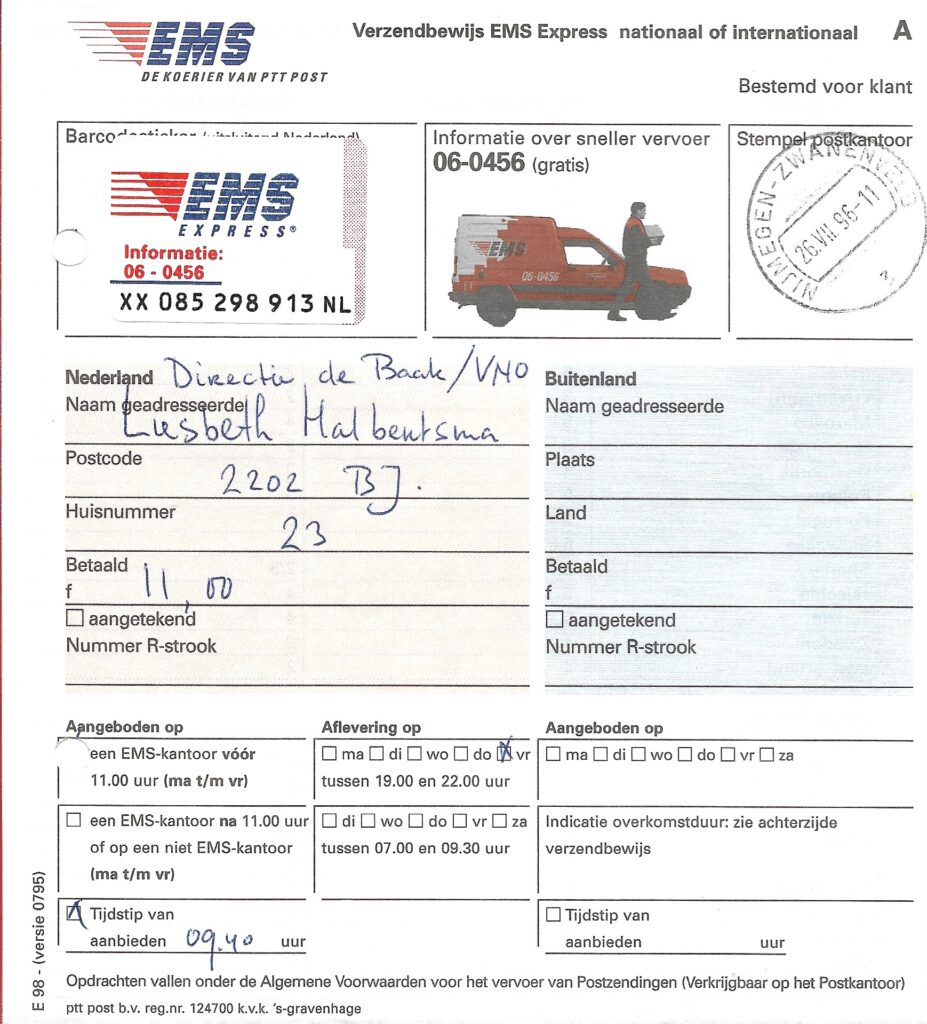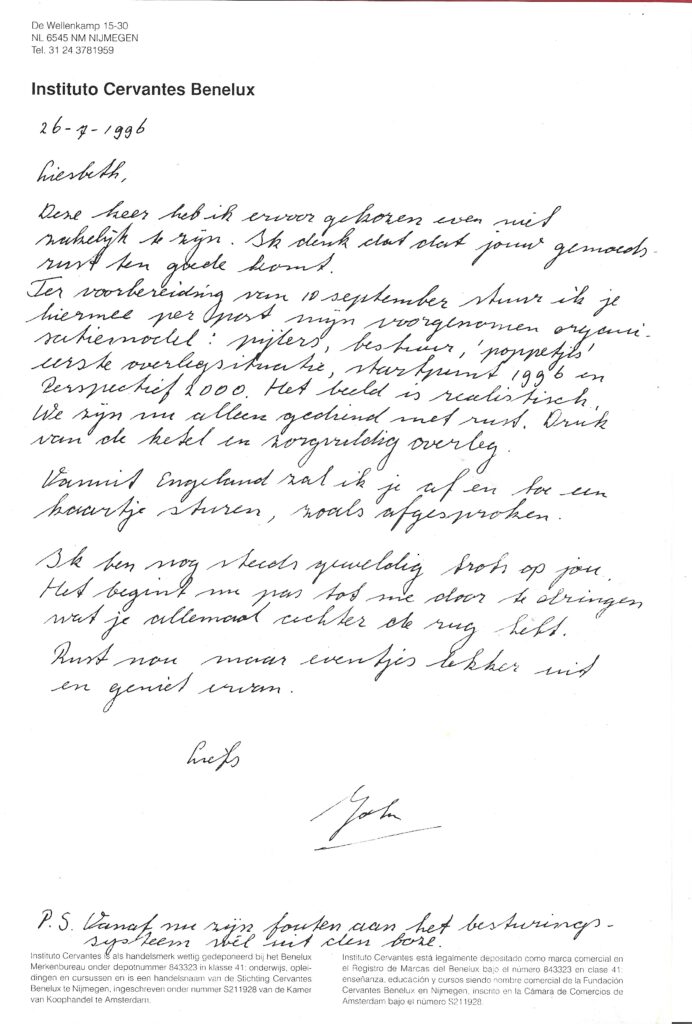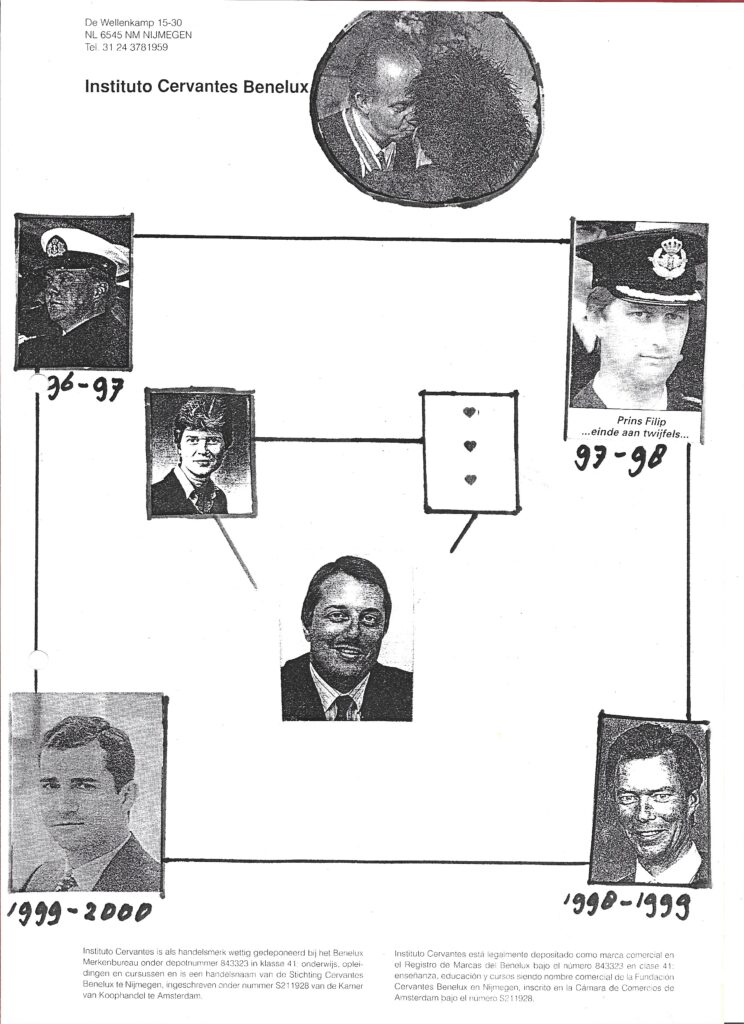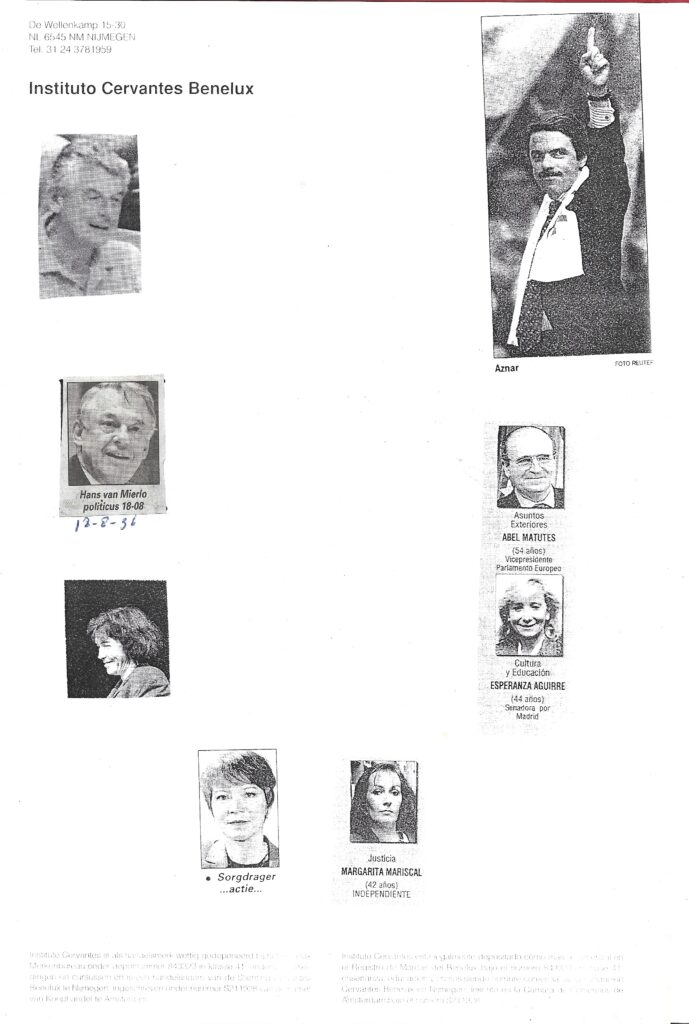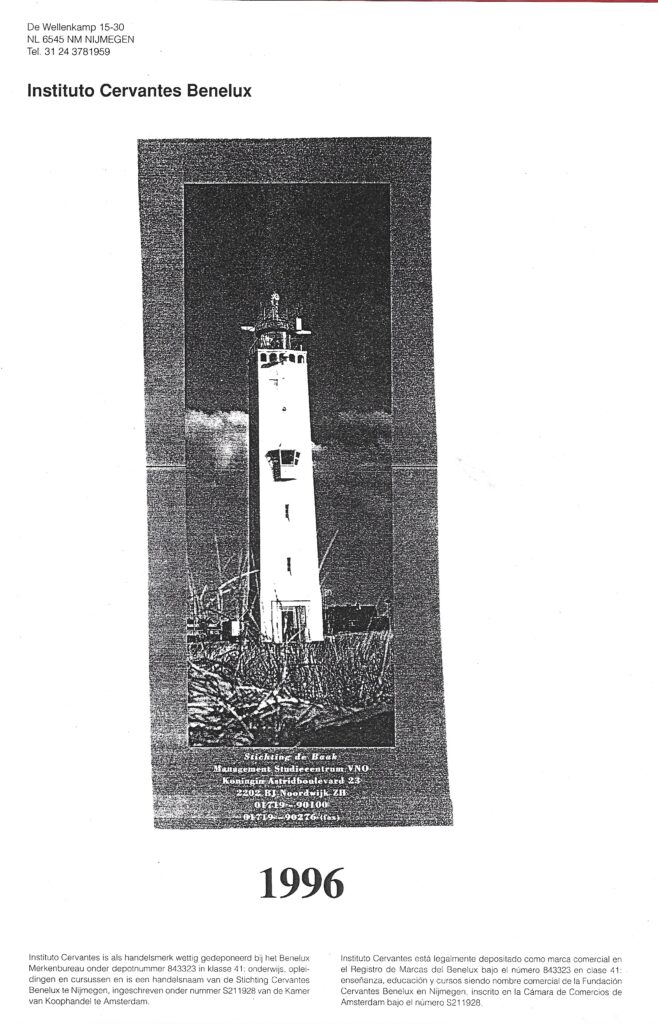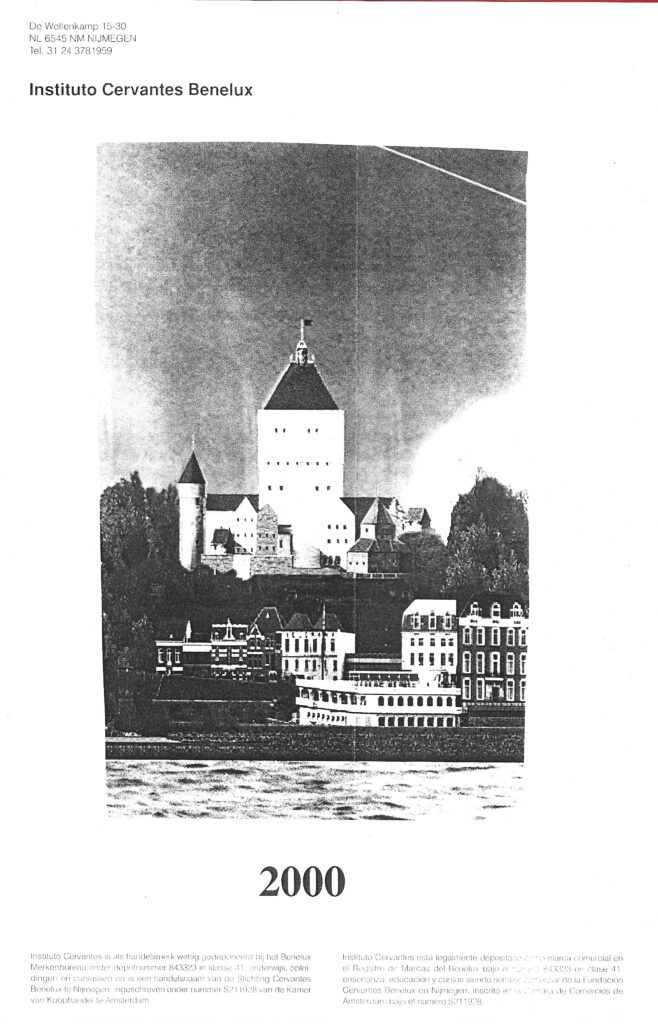 Permanent Recht – Bijzondere prijs 1996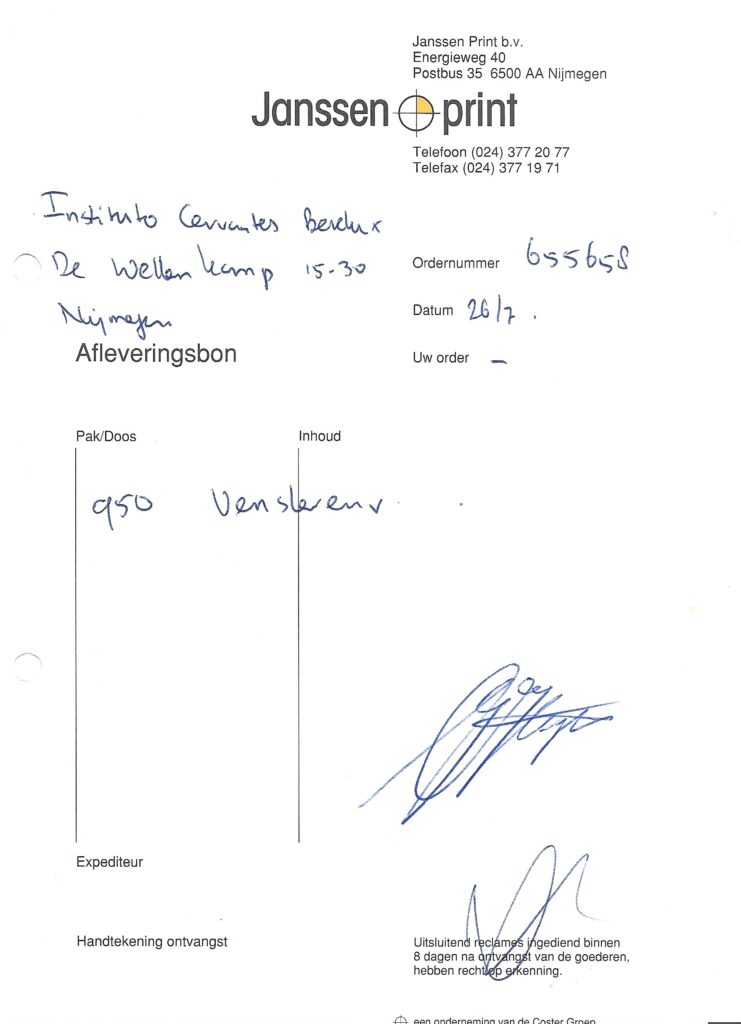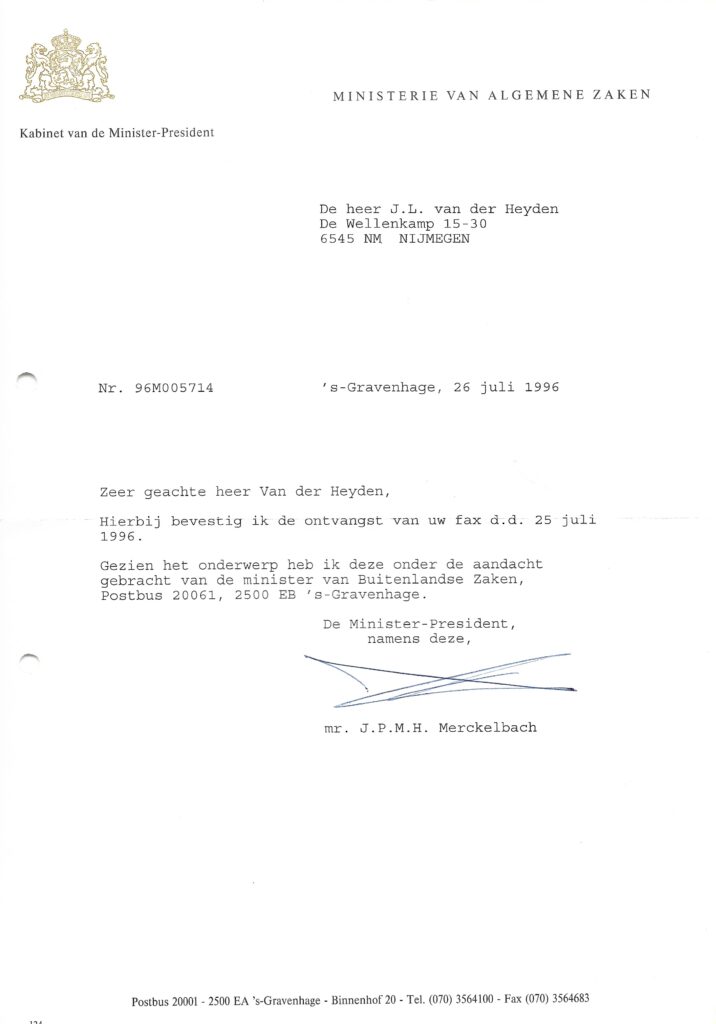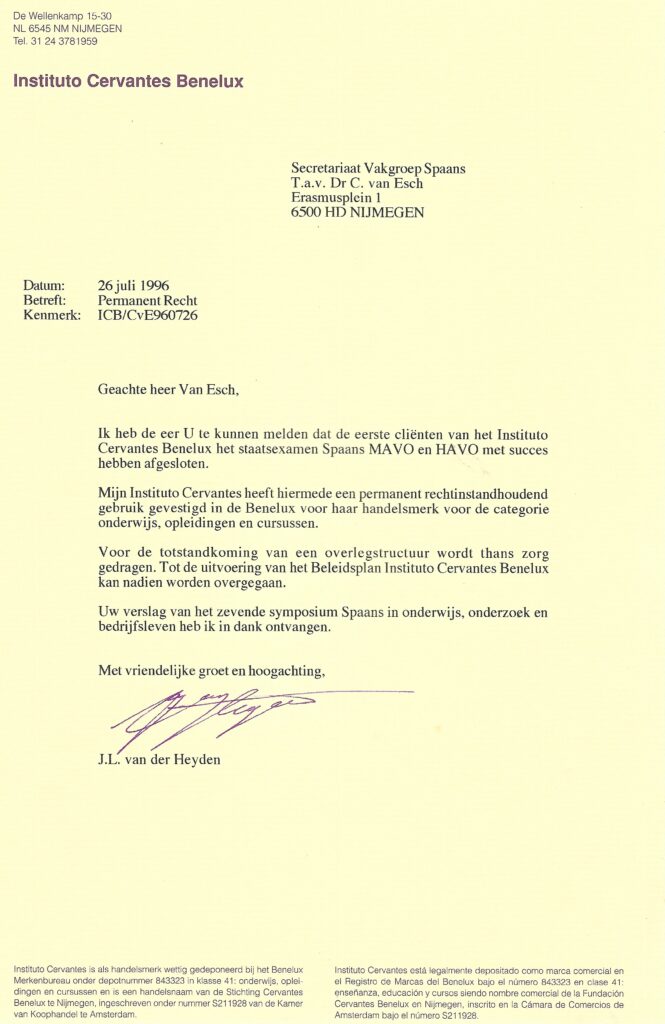 1997 Beleidsplan – Ontvangstbevestiging (1) – Ontvangstbevestiging (2) 1999 Audiëntie 2000 Ontwikkelingen 2001 Guadalupe en Trujillo 2002 Dagboek Lorca – Visita a Lorca monumental y cena de despedida 2003 Acuerdo con El Canario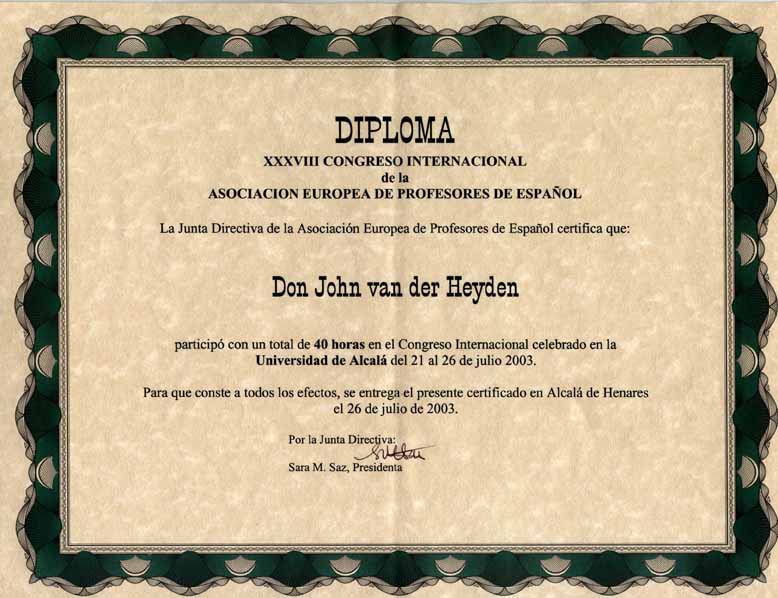 2004 Verslag van het 39ste AEPE-congres in Segovia en mijn bezoek aan Salamanca – Aankomst in Segovia 20040726 Actas Alcalá 2005 John El Inglés 2006 Bezoek aan de kathedraal van Málaga en excursie naar Vélez Málaga 2007 Even wachten 2009 44ste internationale congres van de Asociación Europea de Profesores de Español in Estepona – Hotel Altramarina te Estepona 2010 20100726 Plechtige opening van het AEPE-congres in La Coruña 2011 20110726 Cuenca: Workshops, expositie van uitgeverijen en Las casas colgadas 2012 Gijón: Ledenvergadering kiest voor Jaca voor het komende congres in 2013
2013 ACHTER DE SCHERMEN Gisteren heb ik tijdens de picknick onder mijn balkon kennisgemaakt met de 43-jarige schrijver Vicente Juan Mora uit Malaga. Hij heeft naar zijn zeggen vijftien boeken geschreven. Hij verzorgt vandaag de inaugurale lezing "Letterkundige creatie en nieuwe technologieën" tijdens de sluitingsbijeenkomst van het congres vanaf 12:30. In het oorspronkelijke programma van lezingen en didaktische workshops zijn er verschillende wijzigingen aangebracht. De lezing van Carmen Morán Rodríguez is komen te vervallen in de Sala Pireneos. Haar plaats wordt ingenomen door María del Pilar Celma Valero inzake een ervaring met literaire aanpassingen voor het onderwijs in de Spaanse taal. Ik stel vast dat het programma geen thema's bevat die aansluiten bij het Beleidsplan Instituto Cervantes Benelux, het Busines plan Instituto Cervantes England and Wales en/of het Plan de empresa Cervantes Holding Limited. Vanmiddag begint hier in Jaca een folkloristisch festival dat voortduurt tot aanstaande zondag. 14:36 Ik heb de lezing van Vicente Juan Mora op video vastgelegd. Daartoe had de organisatie van het congrespaleis een scherm opgetrokken waarachter ik ongestoord mijn videobeelden van de lezing en de dankwoorden van Pilar Celma kon vastleggen. De geplande sluitingscocktail van 13:30 is niet doorgegaan. Ik heb bewondering voor de flexibiliteit waarmee la presidenta en haar team dit congres in goede banen heeft geleid. Alle congressen overziend vanaf 2001 beschouw ik dit congres als het meest bescheiden congres. Ik denk dat ik de mensen die ik in de loop van de afgelopen twaalf jaar via de AEPE heb leren kennen als goede vrienden moet gaan beschouwen en ben van mening dat mijn rol als 'fotógrafo' nu is uitgespeeld. Dus vanavond geen camera meer mee naar het Gran Hotel. We kunnen de foto's nu immers direct naar de direct betrokkenen sturen. Vicente Juan Mora is directeur geweest van het Instituto Cervantes in Albuquerque in de Verenigde Staten. 20:00 Presentatie door Don Javier Ruescas Baztán over de Filipijnen. Nog bekend van Sluiting van het 45ste Internationale Congres van de Asociación Europea de Profesores de Español in La Coruña en banket in het Hotel Hesperia in La Coruña. De presentatie had ten doel op initiatief van Pilar García Escudero een internationaal colloquium te organiseren in Manila op de Filipijnen. 21:00 – 24:00 Sluitingsdiner in het Gran Hotel. Hierbij heeft het bestuur klaarblijkelijk afgezien van het optreden van een folkloristische groep. Nochtans heb ik 'on second thougts' alsnog mijn videocamera geïnstalleerd.
2016 Palencia Luis Chirinos – Rafael del Moral – Irina Gúseva en Ilona Gorelaya – Rocío Oviedo – Javier Blasco Pascual – José María Muñoz Quiros – Expositie over Victorio Macho 2017 Las Palmas de Gran Canaria Informatie over FIAPE en SIELE – Informatie over SIELE (vervolg) – Risco Caído – Risco Caído (vervolg) 2018 Excursie van Zamora naar Bragança (Portugal): José Luis González Prada en de burgemeester van Bragança – Excursie Bragança 2019 Sluitingsbijeenkomst San Sebastián: Rafael del Moral – Pascuala Morote – Dr Balcelis – Irina Gúseva – Ilona Gorelaya – María Pilar Celma Valero – Helga Hediger – Adriana Perez Bravo – Ainhou Segura Zariquiegui – Jessica Ramírez – Maruxa Duart – Maitena Etxebarria – Einde congres – Ana María Alonso
09:05 Ontvangen Verslag van het huwelijk van Kitty Spencer en Michael Lewis (62) By Alison Boshoff for the Daily Mail Published: 22:00 BST, 25 July 2021 | Updated: 02:33 BST, 26 July 2021 With a trousseau of five ever-more breathtaking dresses featuring yards of lace, silk and tulle, it was a wedding fit for a princess – the stuff of which fairytales are made. And as Lady Kitty Spencer, 30, married retail millionaire Michael Lewis, 62, at a 17th century Italian castle on Saturday, it was a fairytale crafted by only the most stylish of artisans. The bride – daughter of Earl Spencer and his first wife Victoria Lockwood and niece of Princess Diana – dazzled in a series of gowns made for her by fashion house Dolce & Gabbana, for whom she is a brand ambassador. The Italian duo also dressed many on her glittering guestlist. Kitty's main gown, with an intricate floral lace design, a high neck, long sleeves and puffed shoulders, was an echo of her mother's own wedding dress. However, she did not wear the distinctive Spencer diamond tiara sported by her mother at the 1989 ceremony, and most famously by her aunt Diana when she married Prince Charles in 1981. There was also no sign at the festivities, which spanned several days, of her father. On Friday he had posted a picture of a moon over the family's ancestral home, Althorp in Northamptonshire. Given that current travel restrictions require five days of isolation on arrival in Italy, it appears he wasn't among the well-wishers. He recently revealed that he has a 'painful and unpleasant' shoulder injury, which has been affecting his freedom of movement and may have played its part in keeping him away from the wedding, along with his third wife Karen. Not that family were absent from the event. Kitty was escorted at the ceremony, held in the gardens of the Villa Aldobrandini – a stunning mansion in Frascati, near Rome – by her brother Louis Spencer, Viscount Althorp, and half brother Samuel Aitken, whose father is businessman Jonathan Aitken. Her sisters Eliza and Amelia Spencer, the youngest of Earl Spencer and Victoria's four children, are also understood to have attended. Other guests included fellow Dolce & Gabbana models Emma Weymouth, the Marchioness of Bath, and Idris Elba's wife Sabrina. Pop singer Pixie Lott, a friend for the past five years, was also there. Also understood to have been present were the groom's three grown-up children from his marriage to ex-wife Leola. Some guests were thought to be staying at the five-star Hotel de la Ville in Rome, and on Friday night enjoyed a dinner at the Galleria Del Cardinale, a lavish baroque events space in the city. The bride had earlier shared photos on Instagram of her enjoying a girls' trip in Florence. There was no sign of Kitty's cousins Princes William or Harry, whose weddings in 2011 and 2018 she attended. After the ceremony, the couple treated guests to a sumptuous dinner and dancing, before they took to the balcony to watch an incredible fireworks display. Lady Kitty and her husband, who is five years older than her father, had been preparing to marry since before the pandemic, after he proposed with a £300,000 diamond ring just before Christmas 2019. They had been discreetly dating since 2018, and she has reportedly received instruction in his Jewish faith. When it came to her dress for the big day, it seems she had only one thought in mind. Domenico Dolce said: 'She told us she had thought of us immediately, and we were very happy with that!' Dolce & Gabbana's Alta Moda division spent around six months creating her wedding dress at their embroidery factory and Milan atelier. Kitty has worked with the brand since 2017. The designers said they had only four fittings to get it right. 'They've been beautiful and emotional moments,' said Dolce. 'One of the inspirations is definitely her love for Italy. Kitty is in love with our beautiful country and its rich history, art and culture.' Stefano Gabbana said: 'But she is also a girl who is very attached to her origins, to England; to her heritage of the great Victorian era. And like all the English people, she has a great passion for all kinds of flowers.' He went on: 'For the main dress she wanted to keep a fairly traditional, clean cut, but at the same time she desired to have a timeless allure.' Dolce added: 'It was all very natural and authentic. Lady Kitty Spencer described to us her dream dress, and we have tried to interpret her wishes.' The night before the wedding, Kitty wore a baby-blue tulle gown and cape embroidered with cross-stitched flowers also made for her by Dolce & Gabbana. Following the main ceremony, she changed into a double organza hand-painted silk gown embellished with flowers and crystals for the wedding dinner. She then changed a third time on her big day, swapping into a cocktail dress embroidered with silver and golden beads. Yesterday Kitty was seen wearing a mikado silk dress with cutwork inserts, embellished with sequins, applique flowers and double duchesse ribbons. For the ceremony, her husband wore a white suit with a black bow tie. Earlier this year, Kitty told Town & Country magazine: 'I just look forward to a really happy home life; a happy marriage and happy children.' Kitty was raised away from the public gaze in South Africa, but is now one of the London's most-invited. Her modelling career was launched via a sensational Tatler cover in 2009, in which she looked like a blue-blooded Brigitte Bardot. Professionally, she is represented by Paula Karaiskos, who also booked Kate Moss at Storm model agency. After romances with property tycoon Niccolo Barattieri di San Pietro and cricketer Denis Compton's grandson Nick, she met Mr Lewis through her one-time boss, former defence secretary Liam Fox, who Kitty worked for at the military charity Give Us Time. Fox is close to Adam Werrity, who runs a consultancy called Security Futures, to which Mr Lewis has donated. Publicity shy in the extreme, Mr Lewis courted her with complete discretion. They live in a £19million house in London which Kitty has recently had completely redecorated. Mr Lewis also spends time in the tax haven of Monaco where he is thought to have another house. His family have humble roots; his grandfather Meyer fled persecution by the Nazis in Latvia in the 1930s and relocated to South Africa, where he went on to found a successful furniture company. Meyer's son Stanley, Michael's father, then bought a controlling share in fashion company Foschini, which runs brands including Totalsport. Michael, who has been Foschini Group chairman since 2015, moved to the UK in the 1980s and recently acquired Hobbs, Whistles and Phase Eight. He founded the family's investment company, Oceana Investment Corporation, and Israeli biotechnology company Prochon. He is also a generous philanthropist. Kitty's family are said to find him 'easy-going'. Following the news of their engagement, a source said: 'Michael is loved by all of them. Despite his wealth, he's very humble and low key.'
14:20 Ontvangen Lilibet is FINALLY added to the line of succession on Royal Family's official website seven weeks after birth of Harry and Meghans daughter Lilibet Diana Mountbatten-Windsor born on June 4 in Santa Barbara, California. She has finally been added to Royal Family line of succession on official website. Update comes three days after the omission was highlighted by royal experts. Harry and Meghan's trusted journalist friend Omid Scobie reveals addition. Buckingham Palace spokesman says official website is 'updated periodically' By Mark Duell for MailOnline Published: 13:08 BST, 26 July 2021 | Updated: 13:15 BST, 26 July 2021
17:44 Met alle respect. Ik heb getracht de eerste dag van het virtuele AEPE-congres te volgen. Een presentatie die wordt voorgelezen vanaf een papier boeit mij niet. Ik constateer dat er opnieuw grote tijdsovertredingen plaatsvinden.
19:38 Ontvangen Will Harry's self-serving book finally free Palace staff to set the record straight about how they survived working for the Sussexes?