INSTITUTO CERVANTES BENELUX LTD, CERVANTES EMPLEO, CERVANTES MANAGEMENT GROUP, CERVANTES BUSINESS CONSULTANCY, CERVANTES TRAVELS, CERVANTES TRANSLATION SERVICES, CERVANTES INTERPRET SERVICES, CERVANTES PUBLIC RELATIONS, BUSINESS PLAN CERVANTES TELECOM, BUSINESS PLAN CERVANTES PUBLISHING, BUSINESS PLAN CERVANTES SPANISH IN SPAIN AND LATIN AMERICA, BUSINESS PLAN CERVANTES UNITED STATES OF NORTHERN AMERICA, BUSINESS PLAN CERVANTES ENTERPRISES, ROYAL CERVANTES AIRLINES, CERVANTES TECHNOLOGIES, CERVANTESONLINE (ENGLISH), CERVANTES PRODUCTIONS, CERVANTES INSURANCES, NH HOTELS CERVANTES, BANK CERVANTES BENELUX AND UNITED KINGDOM, FOOTBALL CLUB FC CERVANTES ARNHEM, PRINCESS DIANA STADIUM, CERVANTES TELEVISION, CERVANTES REAL ESTATES
Friday, 18-04-1997
I wrote you already what happened in the morning. I also delivered my request at Lord Chamberlain's Office and went to St. James's. The Palace was closed and I went to the northern gate to deliver my letter. The police officer in duty told me that The office of Diana did not exist at St. James's and that that had been told to me. But that was not true. Otherwise I would not have come. He ordered me to post my letter by Royal Post and so I did, certified and by express.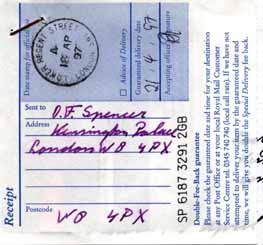 Then I went to Sergeants Inn in Fleet Street and spoke with the attorney of Instituto Cervantes Spain, Mrs. Carrollanne Lindley.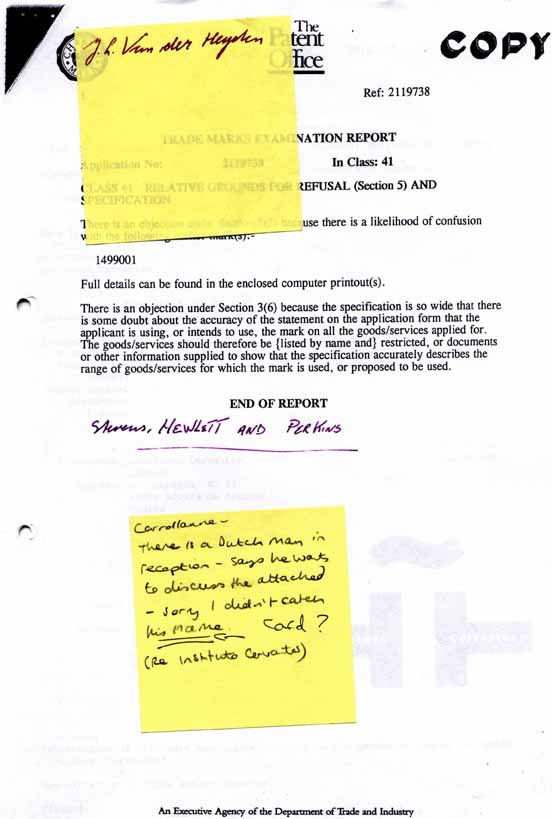 This was a pleasant conversation. I told her about my decision expressed in my letter of this day and gave her the last version of my Business Plan 15-04-1997, 16:19. At 5.00 p.m. I attended the evensong in St. Paul's Cathedral at the first row with five postcards of your smiling face on the empty chair next to me. After the service I sent those postcards to my family and friends. In the Old King Lud I had a pint of Flowers Original to give me Flower Power. I passed by the Savoy Hotel and read "At midnight of the 3d of September 1660 Anne Hyde, daughter of the Earl of Clarendon was secretly married here to the Duke of York (Afterwards James II) whose two daughters Mary and Anne became queens of England".

19 APRIL 1997 PRESENTING MYSELF AT KENSINGTON PALACE