Education & Training, Recruitment & Selection, Management, Business Consultancy, Travels, Translation Services, Interpret Services, Public Relations, Communication, Publishing, Spanish in Spain and Latin America, America, Enterprises, Air Lines, Automation, Internet, Productions, Insurances, Hotels, Football, Princess Diana Stadium, Television, Real Estate.
Wednesday, 2-07-1997
Annemiek called of Vedior. She gave me the spectacles with the blue glasses. I may presume that the yellow ones will be yours or Peter's. I read Make My Di & Vote Today. Of course I vote for Number Five but I can not get into contact with number 0930 567 538, but I think Nurse Sylvie is going to be the winner of this game. Here We go again building bridges. I did my best, but it seems that there is still a communication gab between England and The Netherlands that has to be solved. I will write a letter to my Dear Elizabeth. Don't worrie Di. We can solve any problem! Back to England. I will wait for the wonderful things to come.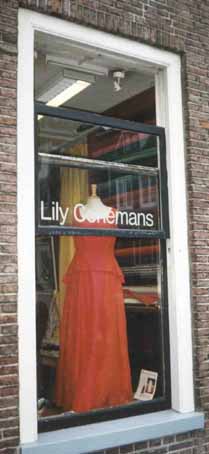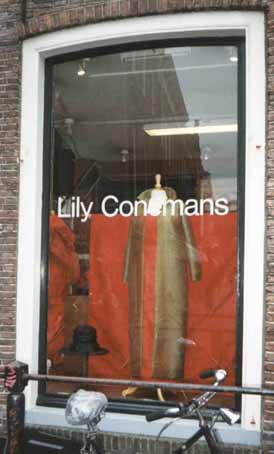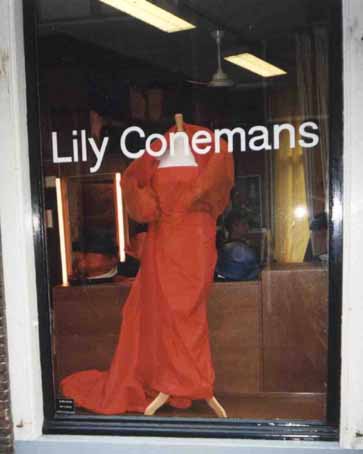 I posted the letter to my dear Manager of the Coast and went into the shop of Lily Conemans. She also works for Liberty in London. Silk dresses were shown in red and orange. I really like to buy one for you, but then I have to know your sizes. I also opened a bank account at ING Bank here in Utrecht to buy you a wedding ring. I see you have fallen out with Virginia Pitman, that you are very good in Doing Business and reorganizing your own situation. Just like Elizabeth. I may presume that she will tell you what I wrote her today. I read Falling out with people has been a way of life for Diana since she first became engaged. Of course. That is necessary to make our relationship a success. "And then there's the feud with royal nanny Tiggy Legge-Bourke. Diana said she was "delighted" when Tiggy attended an ETON picnic with her son Wills. We believed Diana. Thousands didn't." I can understand since Mr Whitaker disposes of my photograph.
Back from the excursion along the monasteries and abbies of this beautiful and historical town. It has been recorded for local radio. I was specificly charmed by the story about a Princess and a Heyden Prince. I read furthermore: "Diana, Princess of Wales and the Duchess of York have not spoken a word to each other since last November". I am glad that you followed the advice that I gave last November. That is real partnership. After having read the whole story I agree completely and I think that I made the right choice after the letter of 13 November.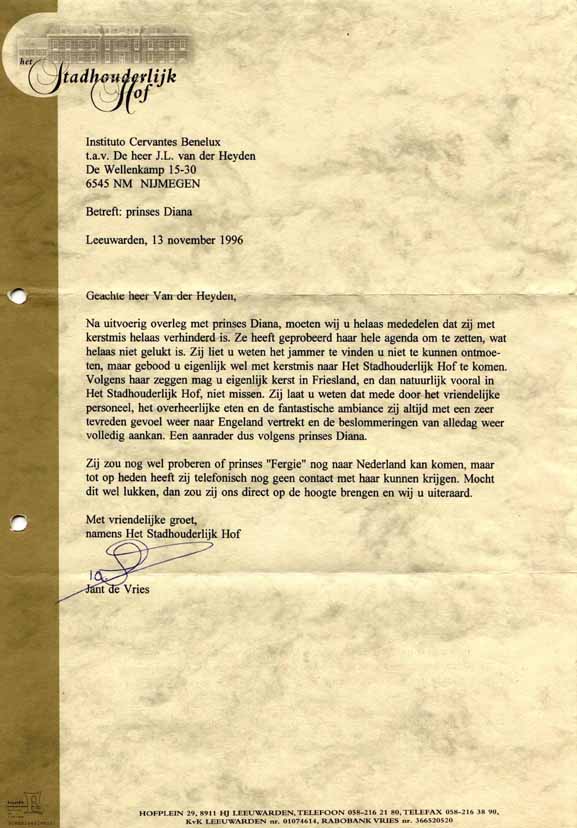 And you play the part very well as the future Queen of England and Wales. But after having read the article there remains only one question. How is it possible that a "source" of the palace interferes in the situation. I think it will be worthwile to have a good Communication Plan. Or is this message part of the plan already?
You herewith find some photographs. Please give my regards to Mister Mario Testino. He has done a wonderful job. The only difference is that he does not wear sunglasses. By the way. There was also a photographer this evening who took photographs of me during the whole evening. I will send my bill to 2 Nightingale Street here after he has published them. Our Foundation needs a lot of money. The comment was however that he wants to make me famous. I can not object against that.

3 JULY 1997 FIRST THINGS FIRST