Education & Training, Recruitment & Selection, Management, Business Consultancy, Travels, Translation Services, Interpret Services, Public Relations, Communication, Publishing, Spanish in Spain and Latin America, America, Enterprises, Air Lines, Automation, Internet, Productions, Insurances, Hotels, Football, Princess Diana Stadium, Television, Real Estate.
Saturday, 29-03-1997
I received enclosed invitation of the head master of ETON COLLEGE for 23 April.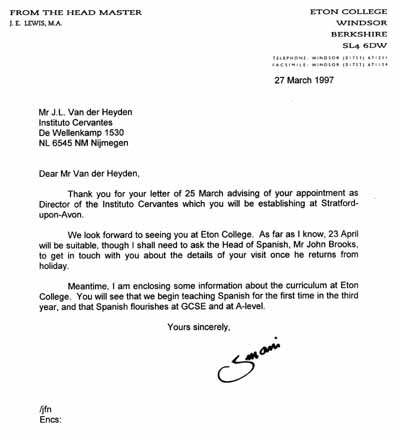 I hope I can meet you there on that occasion and speak about the children. I also offer you the job for a joint directorship in Stratford-upon-Avon. Your English will be better than mine. You might consider a Presidency for the European Cervantes Foundation as well in order to continue your charity works on European scale. I also received enclosed Project Profile 40244 of nebib, verified by De Baak. The new contact with Mr J.E. Lewis is perfect. I will show him the letters of recommendation of the Royal Houses of Spain, Belgium and the Netherlands. During these Easter Days I will study the Curriculum in C and B 1997 - 1999 and Curriculum in D of 1997 - 1998 of ETON COLLEGE. I also received some information for a second home in Ciudad Quesada in Spain and the invitation to visit the site. But first things first. Perhaps I can make a start at Eton by giving Spanish lessons.

30 MARCH 1997 VISIT TO THE PALACIO DE ORIENTE IN MADRID