Education & Training, Recruitment & Selection, Management, Business Consultancy, Travels, Translation Services, Interpret Services, Public Relations, Communication, Publishing, Spanish in Spain and Latin America, America, Enterprises, Air Lines, Automation, Internet, Productions, Insurances, Hotels, Football, Princess Diana Stadium, Television, Real Estate.
Tuesday, 10-06-1997
I will start with 'Start' today. Here in Utrecht. I sent an invitation for a conversation on the Neude to Mr. Attema. Back from Lucaya. There I got key number D220 again and combined this with 697: Diana 22-06-97. So I count on a meeting in Huis ter Duin on Sunday 22 June. I received enclosed confirmation of my participation of the congress De Nieuwe Economie on de Baak on 20 June. So I will try to remain in NOORDWIJK until Sunday 22 to meet you or one of your representatives. In Lucaya me was offered a gossip story on which I was inclined to react, but I considered it wiser at this juncture not to do that. It concerns gossip magazine Party no. 24, 11 June 1997 of Party Publishing BV in Diemen. I know the location from the TopStart group. The story deals with your contact with Mr Christopher Whalley. The misleading suggestions disturbed me but I was flattered by the final text: "Who once has proved to the princess to be worth her confidence will never be dumped toughly, but can always count on the support and friendship of the princess." The New Start started in the same Wildenborch some years ago. I do love you 'de verdad'. And I really mean it. May I? I hope you can afford a journey to our Coast and see the Harbour Lights. In the sauna I also discussed the simbolic meaning of the colours Red, Orange and Purple of the Valentine present that I had bought there and I had a massage for the first time in my life. By a man unfortunately. Had an intensive conversation on the Domplein with an employee of the Spanish namesake. It was a pleasant conversation about European Integration. He is from Barcelona and will introduce me to the new director of the Instituto, Mr Gullón. If not, I have to forbid their activities. I understood that King Juan Carlos forms part of the Association Instituto Cervantes in Madrid.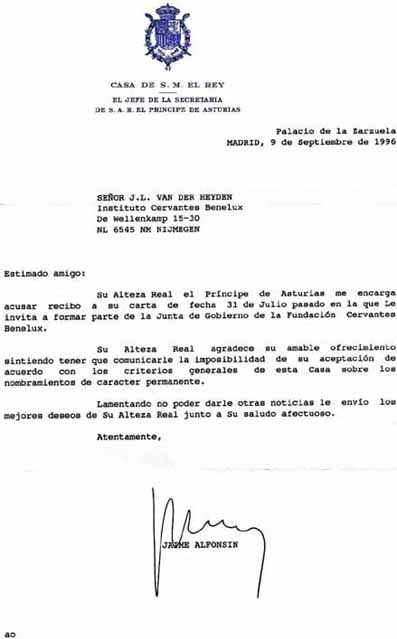 I may presume that He will provide us a good collaboration proposal. Then I will take you to the Marivent Palace another time! But not in a suitcase.

11 JUNE 1997 THE FAMILY QUESTION