Education & Training, Recruitment & Selection, Management, Business Consultancy, Travels, Translation Services, Interpret Services, Public Relations, Communication, Publishing, Spanish in Spain and Latin America, America, Enterprises, Air Lines, Automation, Internet, Productions, Insurances, Hotels, Football, Princess Diana Stadium, Television, Real Estate.
Wednesday, 11-06-1997
I think of the family question that I proposed to you. The Management of de Baak has very clearly token notice of the change of the situation already and is apparently considering the Instituto Cervantes NBL EW as our family company in which I will remain for some time the Manager NBL. In this respect I recall my certified letter of last 18 April. As you know this letter was not accepted at St. James's.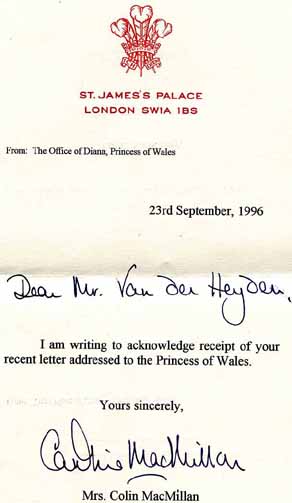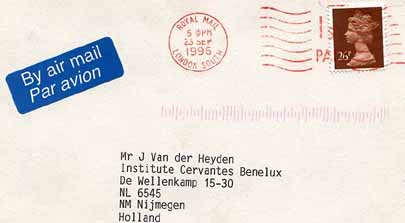 So I sent it as a special delivery by Royal Mail from post office Lower Regent Street London SW1 under number SP 6187 3291 2GB. The name John Hyde was my pseudonym of course.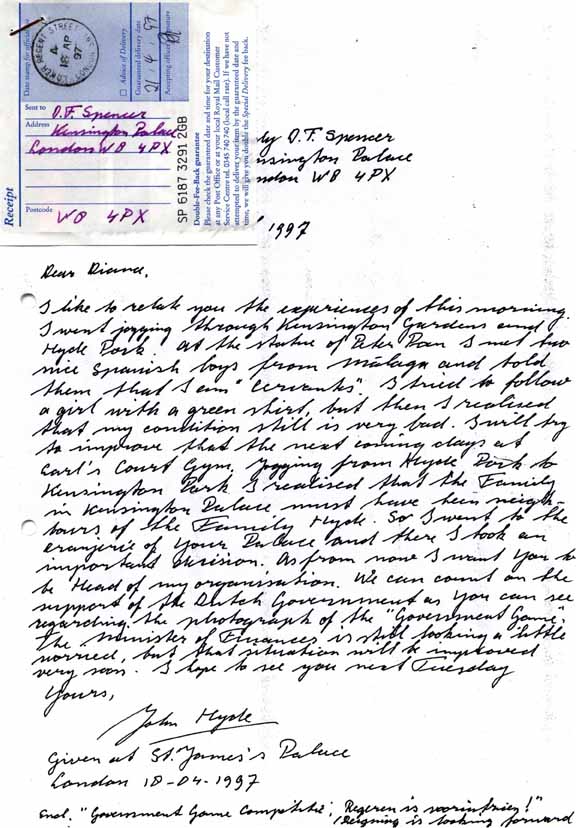 I paid a visit to the office of de Baak in Biltstraat 206, about a mile from here. I got a cup of coffee and experienced the strong bond that still exists after all the years. I continue with my horoscope. I requested the brochure of Education Supportcenter, Marieke de Kroon 'The Crown' (NRC page 55, 7 June) because I think that this organization can become of great value within the basic philosophy of the company to coach young Spanish speaking people in developing their career plans. I requested information at Hotel de Baak and decided to visit Huis ter Duin on Sunday 22 June hoping to have a meeting there with you or one of your staff members considering all my proposals in my former letters. Confirmation reservation, Mrs Bouwman. I also read the article Rechtspraak in EU is een exportartikel (Justice in European Union is an article of export). I believe that once a new European Emperor will be born out of the Family Van der Heyden/Spencer. I am convinced of that. Because I love you. I hope to see you back again. As soon as possible! Made an appointment with mr Van Lanschot of Jones Lang Wootton, about Sparrenheuvel, on Friday 13 (the Lucky number!) June. Back from the excursion around the Domplein where I met a Spanish employee from Barcelona to whom I gave a copy of the advertisement of last Saturday with my personal data for Mr Gullón. On BBC1 I saw the visit of Tony Blair to the Elysee Palace regarding the Eurotop of Amsterdam and I must confess that I agree with his ideas to collaborate constructively within the European Union and to defend the British frontiers and interests within this framework. I also heard yesterday that King Juan Carlos would be personally involved in the Association Instituto Cervantes in Madrid. I propose myself however not to interfere in the position of Gibraltar. That will be a nice issue for Tony Blair and his colleague José María Aznar.

12 JUNE 1997 ENROLLMENT FOR THE NEW TRIP TO THE ROYAL PALACES OF ENGLAND