Education & Training, Recruitment & Selection, Management, Business Consultancy, Travels, Translation Services, Interpret Services, Public Relations, Communication, Publishing, Spanish in Spain and Latin America, America, Enterprises, Air Lines, Automation, Internet, Productions, Insurances, Hotels, Football, Princess Diana Stadium, Television, Real Estate.
Instituto Cervantes Limited. De Wellenkamp 15-30. NL 6545 NM NIJMEGEN Netherlands. STRICTLY CONFIDENTIAL. To: NatWest Folkestone. Mr Alan Beer. Concerns: account number 66834465. Date: 27-01-97. Hour: 14.45 (Dutch time). Number of pages: 9. Dear Mr Beer, With thanks for your information on behalf of the opening of a bank account I herewith transmit the requiered papers that I also will send to you by separate post. For the good order I let you know that at this moment I am the only director. The possibility exists that a British partner will join the business. The partner is secret but has my written consent to undersign the Signing Arrangements Card and to get directly in contact with you. You also find my letter of today to my first debtor. With kind regards, Instituto Cervantes Limited. J.L. VAN DER HEYDEN. Added: Letter Haags Juristen College dated 23 January 1997; Certificate of incorporation of a private limited company, Company No. 3300636, Instituto Cervantes Limited dated 10 January 1997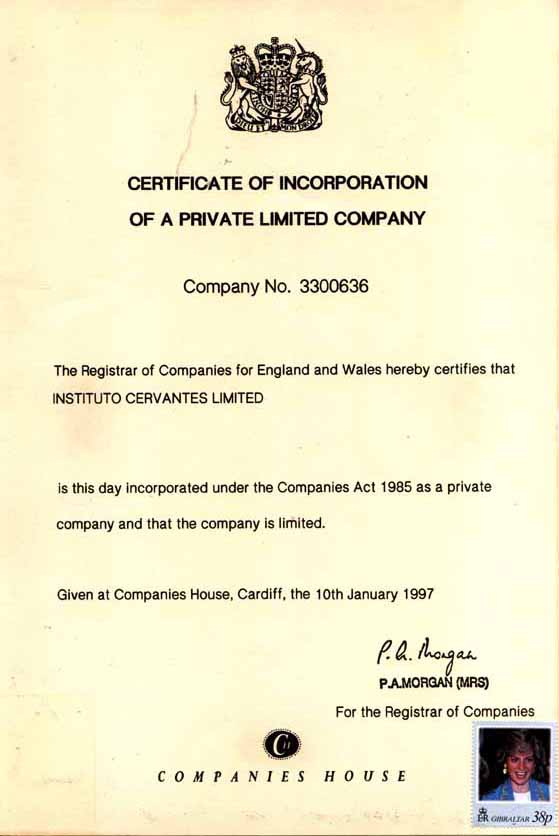 Memorandum of Association of Instituto Cervantes Limited date 17-12-1996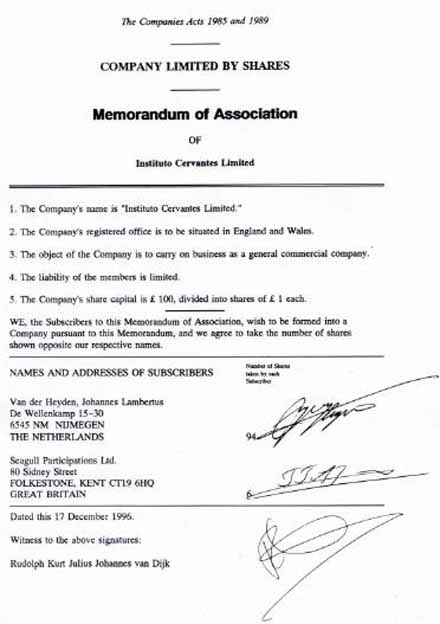 Declaration on application for registration date 17-12-96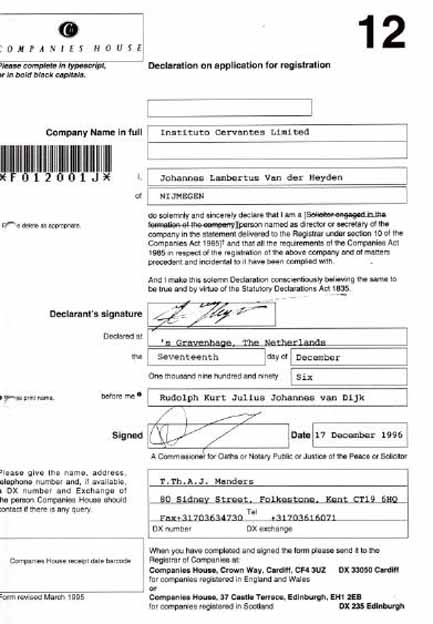 Request for a letter of introduction to Bank ING in Nijmegen 27 January 1997, 12.38; Copy of passport number M959122 granted by the Lord mayor of Nijmegen on 29-10-1993; Copy of driving license nr. 3025592504 granted by the Lord mayor of Nijmegen on 29-10-1993; Letter BETALING TER ATTENTIE VAN DE MINISTER VAN FINANCIËN VAN HET KONINKRIJK DER NEDERLANDEN to the Dutch Minister of Finances date 27-01-97.

13 MAY 1997 ACCOUNT NUMBER 66834465 ON BEHALF OF MR T COTTRELL NATWEST KENSINGTON HIGH STREET