Education & Training, Recruitment & Selection, Management, Business Consultancy, Travels, Translation Services, Interpret Services, Public Relations, Communication, Publishing, Spanish in Spain and Latin America, America, Enterprises, Air Lines, Automation, Internet, Productions, Insurances, Hotels, Football, Princess Diana Stadium, Television, Real Estate.
TELEFAX To: The Ambassador of the United Kingdom, Mrs. Rosemary Spencer. Date: 15 September 1997. Time: 21.15. Concerns: THE BIG SECRET Number of pages: 3. Dear Mrs Spencer, I thank you for your attention paid to the letters that I sent you. Herewith you find my Honourable Proposal of last 27 August directed to Her Royal Majesty Queen Elizabeth II in Scotland. This fax message is also to announce that
I consider the Chairman of Harrods Knightsbridge personally responsible for the death of Princess Diana by not having taken sufficient security measures as the owner of the Ritz Hotel in Paris.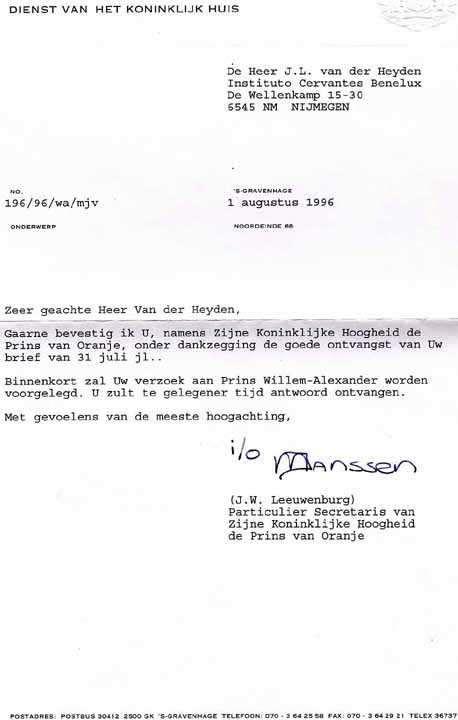 On 1 August 1996 I lighted a candle for Princess Diana in Canterbury Cathedral after having invited the crown princes of the Benelux and Spain in the government of my foundation. Therefore I called My Lady My Fifth Rose. ELTON JOHN has expressed this situation beautifully in his song Candle in the Wind for My English Rose. This evening I will light another candle for Diana in conmemorance of the candle that I lighted on 1 August 1996. Next Wednesday I will carry 28 white roses in conmemorance of My Fifth Rose: the Rose of England. I have still one candle left. It dates from 25 December 1996. I will never burn up that one! I received that candle in Het Stadhouderlijk Hof in Leeuwarden where I engaged myself to Her. Next 28 September I will go alone to Palace Het Loo in Apeldoorn. Tonight I choose for the GREEN Light. I hope to find a good place in the church next Wednesday. Yours sincerely, INSTITUTO CERVANTES Netherlands, Belgium, Luxemburg, England and Wales JOHN VAN DER HEYDEN Added: Letter HONOURABLE PROPOSAL to Her Royal Majesty Queen Elizabeth II of 27 August 1997.
9 OCTOBER 1997 LETTERS TO DIANA, PRINCESS OF WALES ON BEHALF OF THE AMBASSADOR OF THE UNITED KINGDOM IN THE HAGUE