Education & Training, Recruitment & Selection, Management, Business Consultancy, Travels, Translation Services, Interpret Services, Public Relations, Communication, Publishing, Spanish in Spain and Latin America, America, Enterprises, Air Lines, Automation, Internet, Productions, Insurances, Hotels, Football, Princess Diana Stadium, Television, Real Estate.
Saturday, 12-04-1997
I start with writing what happened yesterday. I received key number A30 and responded with code 220497. Towels and bathrobe on hook number one. On hook number 18 there was a purple bathrobe with a red towel and a green towel on the hooks 12, 13, 14. I remembered that I have in my agenda also 18 April, St. James's and that the light for that visit might be set on green during these days. If you might be interested in a complete package deal or parts of it, then we will have a lot to discuss and I will come to London the 17th of April already. Some other significant things happened. For example a blond lady proposed to change her pink towel with my red one and afterwards she hang her towel on hook number 35. In the sauna they played regularly the Concierto de ARANJUEZ of Joaquín Rodrigo. It reminded me of the Palacio de ARANJUEZ and the Palacio de Oriente in Madrid that we have to visit. I met a boy named Jeroen Halbesma. I offered him to send him my genealogical study of the Halbertsma family. The look in his eyes was amazingly the same as from my former 'alter ego' in NOORDWIJK. At the bar I was attended by Wendy. She reminded me of Peter Pan and the message 'Please fly back to Kensington Mr Van der Heyden'. Stepping into the train on my way home a group of boys appeared on the railway station singing 'The green, green grass of home'. Returned home I found on page 40 of NRC enclosed advertisement of the Government Game with a photograph of eight Ministers of our Cabinet and myself standing in the middle (without glasses).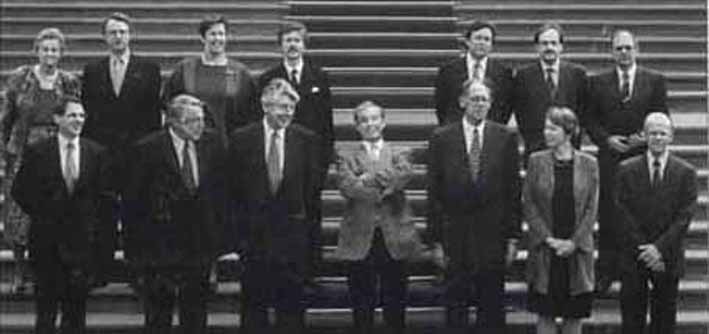 It appears to be a retouch of enclosed photograph of 1986.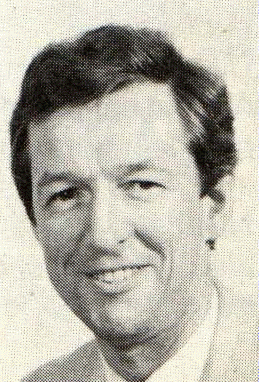 Seven of the shown Ministers know me very well: Prime Minister Kok, Mr Van Mierlo (Foreign Affairs), Mr Dijkstal (Home Secretary and Vice President), Mrs Sorgdrager (Justice), Mr Voorhoeve (Defense), Mr Melkert (Social Affairs and Employment) and Mr Wijers (Economical Affairs). Mr Wijers had the idea to found a purple party. So here we are! But I prefer to set up the Cervantes Project. Mr Kok is looking very charming. Is'nt he? He seems to me a very nice man. I did not deal with Mrs Jorritsma (Transport and Public Works) yet, but she can prepare the road. The Eurostar is a great hobby of hers. I read the advertisement 'hoi' on a purple background concerning a Hi-subscription to a mobile communication network. I think it will be worthwhile to consider it during my trip in order to get in touch with everyone. I received the message 'PACKAGE DEAL', 'We can Work it out', and 'Ready for Take off?'. In colour (enclosed). Also 'Maak er iets moois van' (Make something beautiful of it).
Sent the following fax message to the Prime Minister: "Inspired by the advertisement 'De inschrijvingen voor het Government Game starten weer' on page 40 of NRC Handelsblad of yesterday I have the honour to transmit you copy of my letter Diplomatie/095000-AQ 588.096 which I have sent on last 9th of April by certified letter, together with the indicated enclosures to the lawyer of the Association Instituto Cervantes in Madrid. With the highest esteem, INSTITUTO CERVANTES, J.L. Van der Heyden, Enclosure Letter Diplomatie/095000-AQ 588.096 of 9 April 1997'.
I will stick to the complete package deal if you should wish so and come to St. James's Palace next 18 April already to speak with you or with one of your staff members. I will discuss the possibilities at my travel agency this afternoon. I don't consider myself very charming on the photograph with the Cabinet. I am not personally responsable for the image as a matter of fact. In my opinion the statue can be placed at Madame Tussaud's. After having finished my work at home I will go out to Applebee's for example. I also received information of Kluwer Bedrijfsinformatie about Human Resource Management. This will be a very important activity of the new organization. After having made arrangements in Britain I will decide for a subscription.
Back from Applebee's. Esther was in purple. I told her that my plans must be realized before the 28 of September. I am ashamed that I denied the 18th of April in my agenda. D-reizen tries to postpone my departure to 17 April. Next Monday I will know more. I bought a GSM mobile telephone.