Education & Training, Recruitment & Selection, Management, Business Consultancy, Travels, Translation Services, Interpret Services, Public Relations, Communication, Publishing, Spanish in Spain and Latin America, America, Enterprises, Air Lines, Automation, Internet, Productions, Insurances, Hotels, Football, Princess Diana Stadium, Television, Real Estate.
6-08-1997
Again a memorable day. Perhaps the most memorable day in my life. I saw that yesterday when I looked to the photographs of the burial of Gianni Versace. There is nothing to hide for. It is good that someone has deep emotions and can show them. There are a lot of people who don't. That are dangerous people in fact because they are inscrutable and one can not see if they are honest. I think of Paul Karis in Woubrugge. It is a wonderful day today and I like to be on the water. I called his wife. Paul is not at home but he will call this afternoon for an appointment. Of course I have to remember the day of Henley-on-Thames last year. First I went to the terrace of The Angel on the Bridge. Sent a poem to Elizabeth in a red envelope, because the last time that I had met her in NOORDWIJK she had asked me to correct a text in Spanish for an advertisement in red ink and she had put a vase with red and pink roses on my desk. I noticed that pink is the colour of your Queen Mother. I also send cards to other friends with the text Storm is over and some more. Then I asked for the ecuestrian center to visit because E. had received there her dressage schooling during a year. As far as I can remember it was in Charendon, but I am not sure.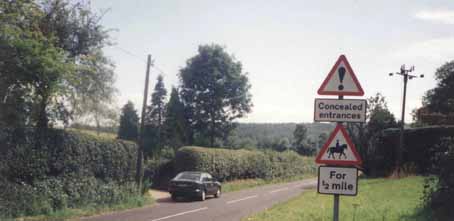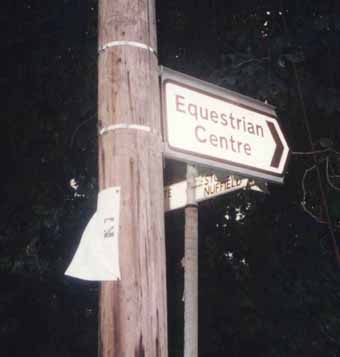 Checkendon 6-8-1996
On my route I found an orange paper on a tree with a purple arrow indicating me the way and I had a little conversation with the new management of the centre.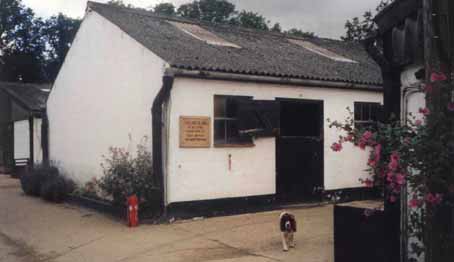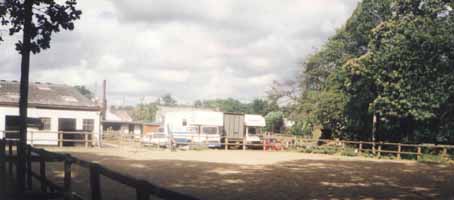 I would like to go there another time to take some more horse riding lessons, if it's possible. Then I returned to the campingsite of Laleham.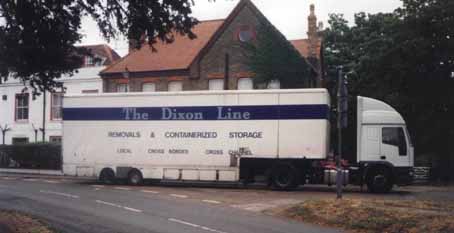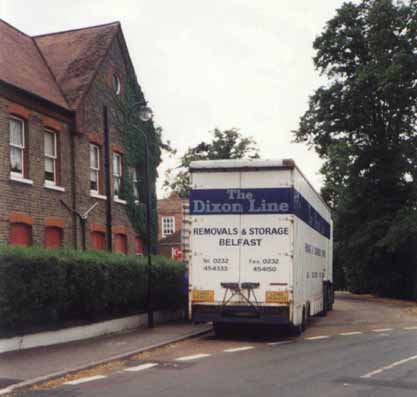 After having already found in the morning of 2 August a coin with the portrait of Queen Elizabeth, this time I found a brown leather shaving bag in my tent with the number 28. The beginning of the new holding company I hope.
I read in NRC of yesterday 'The net profit of editor Wolters Kluwer has risen in the first half of 1997 with 20.8 percent in comparison with the same period last year. The concern earned an amount of 244 million guilders, 42 million more than in 1996. Per share the profit grew from 2.97 guilders to 3.57 guilders. The turnover raised with 20 percent till more than 2.4 billion guilders. The company's result rose with 27 percent till 520 million guilders. For the whole of 1997 Wolters Kluwer expects a profit per share of 8.40 guilders, against 7.03 guilders last year. That implies a growth in profit of 19.5 percent'. So they have possibilities enough to invest in The Company and they want to go international. This afternoon I am going to Zandvoort on Sea.
Back from Zandvoort. At 16.30 I noticed a plane of 'Beauchamp Leasing' and I read the article on page 6 of the Sun. I give you my feedback. I noticed that the Archbishop of Canterbury George Carey has stated that Charles would plunge the Church of England into a major crisis if he wed Camilla Parker Bowles.
"George I ascended to the throne in 1714 and he had divorced his wife in circumstances of a major scandal". This has not been a very good example for Monarchy. "His wife was still alive and his long-standing mistress was a German princess who he created Duchess of Kent". This indicates that you can create me Duke of Warwick when You are going to be Queen of England and Wales if Queen Elizabeth might die before William is ready to be king. "Dr Carey is in accordance with the historical tradition of the Church of England in the 20th century which has made divorce the great test of public morality".
I agree with the archbishop but I think you can remain your rights on the throne as the mother of the king and I can be your wedded partner although you and me are divorcees as well. But the situation is different. I have never chosen for a divorce. I got problems with my first wife because she wanted to interfere in secrets concerning the company for which I was responsible. There has never been another woman involved. It was the decison of my wife to divorce me. I have always been a good father and have high moral standards. I repeat: a man who commits adultery during his marriage can never be a king. That would be the end of Monarchy. The Duke of Edinburgh is completely aware how I think about that. As far as you are concerned I have the opinion that you have higher moral standards than your ex husband as far as I know. The divorce was also not your decision, but a decision made by the mother of the Prince of Wales. So you are not to blame. I think We will be a good couple.During the last five years I have influenced European history more than your ex husband did. The only difference is that he has his Revenues and I don't. So I sent next fax message to the lady in Canterbury: Second fax message to Marina George. In that respect I can report that I spoke Mr Karis by telephone this afternoon. I still have to mention one thing. In the train from Zandvoort to Amsterdam I had an intensive conversation in Italian with two 19 years old Italian boys from Florence. We spoke about all the beautiful cities in Italy that I have visited. I also expressed my concern about the influence of the maffia in their country. They told me that the situation is improving and they asked me which city that I visited I prefer. Rome of course, the eternal city. Florence and Venice as the next. It was rather nice to have had another conversation in Italian since I spoke that language for the last time in 1985 at the Málaca Instituto. I forgot to talk about Verona, the city of Romeo and Juliette. Also Milan. But that's another chapter. Once I sung an aria of the pearl fishers of Bizet in the Scala. I need to find a New Pearl. Do you have one?