Education & Training, Recruitment & Selection, Management, Business Consultancy, Travels, Translation Services, Interpret Services, Public Relations, Communication, Publishing, Spanish in Spain and Latin America, America, Enterprises, Air Lines, Automation, Internet, Productions, Insurances, Hotels, Football, Princess Diana Stadium, Television, Real Estate.
Harrods Limited. Mr Mohamed Al Fayed. 87-2135 Brompton Road Knightsbridge London SW1X 7XL UNITED KINGDOM. Date: 3 September 1997. Concerns: Condolences. Reference: ICNBLEW/Harrods970997 (must be: ICNBLEW/Harrods970903) Dear Mr Al Fayed, Herewith you receive my deepest and well meant condolences for the tragic death of your son. I have to be honest to write that on first glance I saw him as a rival. You will probably know that there existed a secret plan in which I had proposed to The Princess of Wales to make my company a joint family company. I proposed to marry Lady Diana next 28 September. Of course I am devastated about the fatal accident. Also because I think that I recognized the car in which they were driving from a visit to Henley-upon-Thames last April after having authorized Lady Di to act legally on my behalf in the United Kingdom.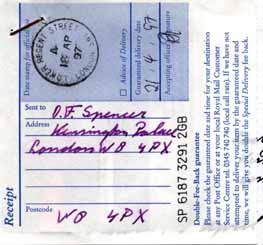 Still last Sunday I saw an article in which your son revealed that he only wanted to be a friend of the Princess. Now monarchy is in danger in Great-Britain, but as a descendant of an old European noble house I will still be in the picture. Now the situation has completely changed I request you to reconsider the message from last 13 August that I received from Anna Wilkins. I wish you personally a lot of strength in the forthcoming time and hope to receive your support from now on and getting a new son in me perhaps. For the good order I let you know that I keep reporting to KENSINGTON PALACE. This time at the attention of Diana's brother Charles. Yours Sincerely, INSTITUTO CERVANTES Netherlands, Belgium, Luxemburg, England and Wales. J.L. Van der Heyden. General Manager (again unfortunately).

7 OCTOBER 1997 LETTERS TO DIANA PRINCESS OF WALES ON BEHALF OF MR MOHAMED AL FAYED