Education & Training, Recruitment & Selection, Management, Business Consultancy, Travels, Translation Services, Interpret Services, Public Relations, Communication, Publishing, Spanish in Spain and Latin America, America, Enterprises, Air Lines, Automation, Internet, Productions, Insurances, Hotels, Football, Princess Diana Stadium, Television, Real Estate.
To: ETON COLLEGE Windsor Berkshire SL4 6DW. Attention: Sergeant David Sharp. Date: 15-07-1997. Hour: 15.30 (Dutch time). Number of pages: 2. Dear Mr Sharp, After having seen the photograph on Page 5 of The Sun of today I herewith express my deepest and sincere concern about what happens to Our Lady now again. The Mother of the King of England on the roof of a house. Like a cat without an escape. I saw Her in that same state of mind some time ago and I decided to help Her. That was indeed my principle motive to come to ETON COLLEGE last 23 April. I herewith give you my personal opinion about the situation. Her children have to obey their natural mother and situations in which She is hunted by unauthorized photographers must be stopped. At once! Some time ago I promissed Her to marry Her. I proposed Her to be my bride on next 28 September in Palace Het Loo in APELDOORN. I announced this already there some time ago. Last weekend I was a guest in Het Stadhouderlijk Hof in Leeuwarden (Room Number One), the cradle of our Royal Family and repeated my intention. Also our Prime Minister has been informed and Mr Major in an earlier stage. No one can stop my plans. I told you that on 23 April and showed you the supportive letters of Four Royal Houses. You requested me to stay away from the Royal Palaces for the time being. I promissed that you could rely on me and I kept that promiss. But I will be back in Britain from 17 till 21 August and stay in the Holiday Inn Hotel of Windsor/Maidenhead. You will be welcome for a conversation. Although I am aware that you find yourself in Saint Tropez now, I may presume that this message will reach you by the proper channels. Added you find my position in the Netherlands as leader of 'Purple'.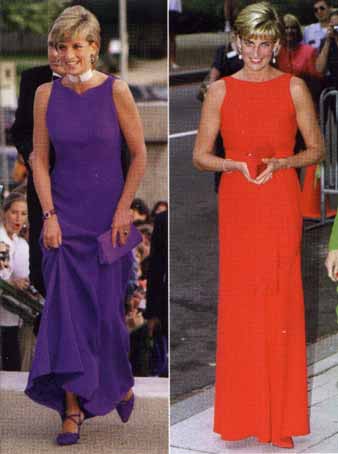 I chose for 'Red' and will stick to it. Please give my regards to My Lady and tell Her that I love Her. Yours Sincerely, INSTITUTO CERVANTES Netherlands, Belgium, Luxemburg, England and Wales JOHANNES VAN DER HEYDEN Manager Benelux Added: 'Paars vol lof over Kok en Van Mierlo'. 21st FEBRUARY 2008 I ask myself if She has been raped when She needed protection.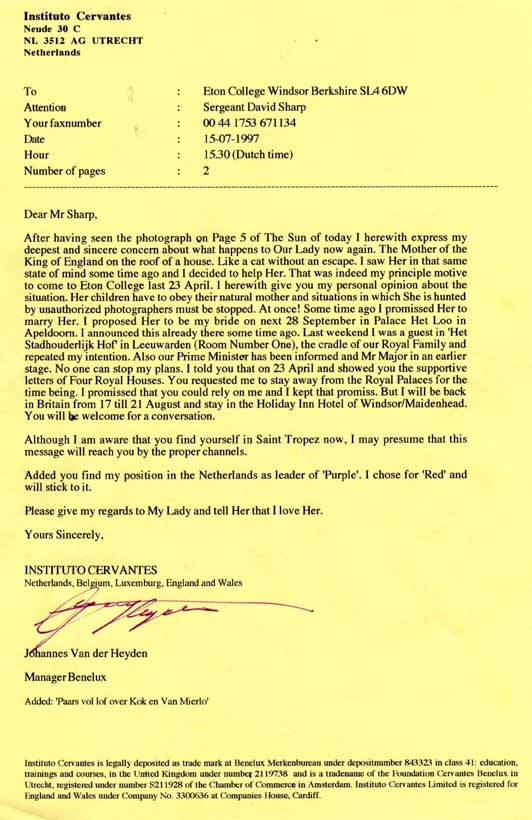 20 JULY 1997 SECURITY MEASURES ON BEHALF OF ETON COLLEGE