Education & Training, Recruitment & Selection, Management, Business Consultancy, Travels, Translation Services, Interpret Services, Public Relations, Communication, Publishing, Spanish in Spain and Latin America, America, Enterprises, Air Lines, Automation, Internet, Productions, Insurances, Hotels, Football, Princess Diana Stadium, Television, Real Estate.
Wednesday 5-02-1997
The advertisement of Mazda 323 in de Telegraaf of today indicates that 'yellow' is supported by purple.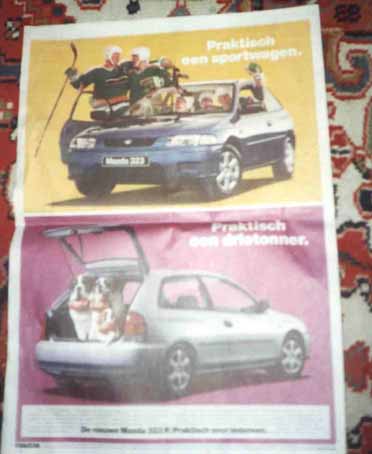 The article 'Naamkapers slaan slag op Internet' in de Telegraaf leads to some confusion indeed. Malicious companies try to abuse the names of existing companies. I did not. I needed the name of Instituto Cervantes because of the lack of financial support in the Netherlands during the last five years. So I needed tho choose for Britain. I had no other choice. But certainly I will do things one by one. Starting with relating what happened yesterday. I read the story 'William Teacher is nicked with knife' in The Sun. I quote 'ETON headmaster John Lewis went "berserk" when he learned that Prince William's boozed-up French teacher had been nicked for carrying a seven-inch knife'. It concerns language department chief David Colman. I continue quoting the main passages: ' Colman - also held in high regard by 14-year old Wills - was collared at 11.22 pm in ETON High Street after a boozy crawl through the Berkshire town's wine bars.....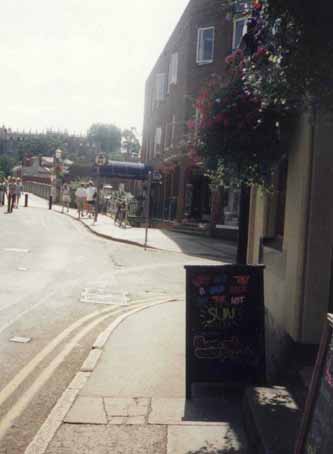 The Royal tutor was nicked on suspicion of theft and possession of an offensive weapon while drunk in the street.... Colman was driven past William's Manor House dormitory as a patrol car took him to Slough police station a mile away...... The ETON insider said: "Prince William is very keen on languages". After having read this story I went to Mr Lewis' colleague of Instituut Blankenstein in Utrecht. One of the few private schools in the Netherlands where I have given a course of Spanish literature on behalf of Instituto Cervantes Benelux last year. I decided to get in contact with the Harbour Club in London and will help you in this situation after the first of April producing a language learning programme for William in collaboration with Mr. Lewis, with your approval. I hope next time the college gate will be open (see enclosed photograph of 5-8-96).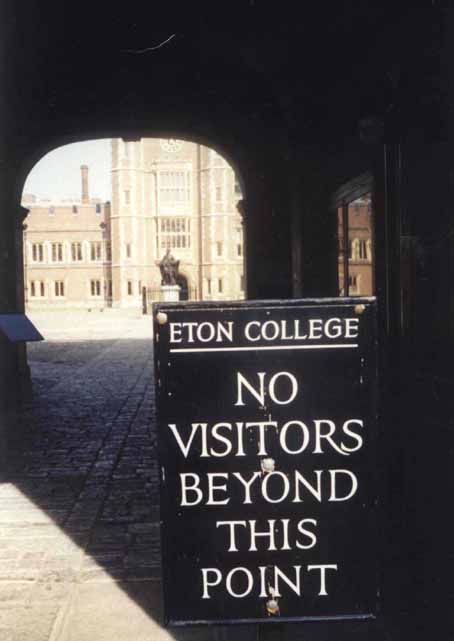 Dinner with Mark. Very good. He is a smart boy. Studies Natural Sciences and is choosing for an independent course. He agrees with my ideas. In the meeting of the Lions Club a presentation was given about 'building bridges'. At the end of the meeting I made a statement that I confirmed today in a letter to our President. The translation of the letter is as follows:
"Dear President,
I herewith confirm my statement in the meeting of yesterday reading as follows. 'In connection with the last image of the presentation of Mr Van Maarschalkerweerd about the theme of building bridges I can announce that with Christmas I received a similar Christmas card of Drs H. Blankert, President of VNO/NCW, directed to Instituto Cervantes Benelux that I represent here by law. At the same time I received a personally undersigned Christmas card of Prime Minister Kok and Prime Minister Aznar of Spain.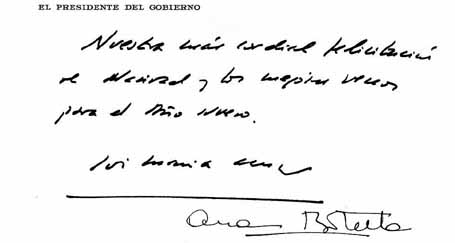 Last week I received the Certificate of Incorporation of Instituto Cervantes Limited England and Wales.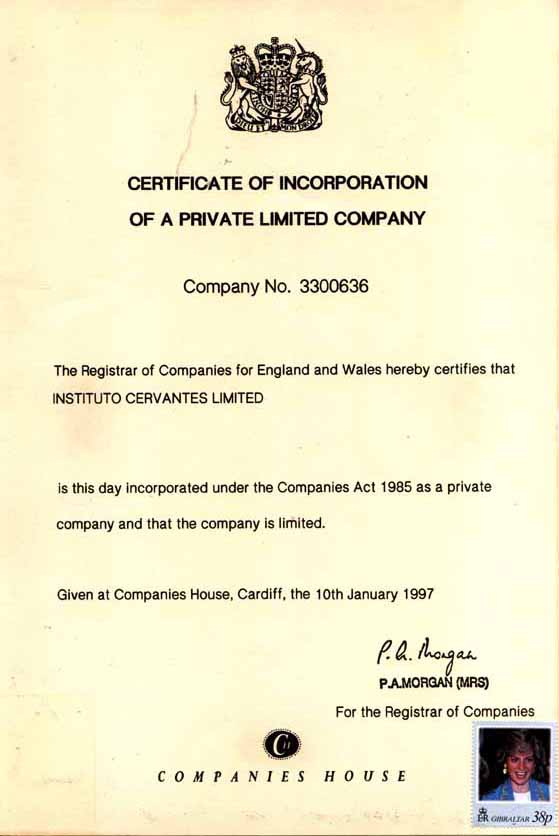 I decided to build up Instituto Cervantes Benelux during the next two months and to go to England as of the first of April to give shape to Instituto Cervantes there. The developments will end on 27 September during a Congress of Spanish that will be helt here in the Netherlands. I hope to finish my personal choice process on the 28 of September.' I promised Diana to found a fund in order to provide her the possibility to support charity projects in the Benelux. I herewith request the Lions Club Maarn-Maarsbergen for the support of this fund. During my residence in London I will join a Lions Club in Kensington. Concerning continuation of the membership of our club of friends I can not yet take a decision. With kind regards."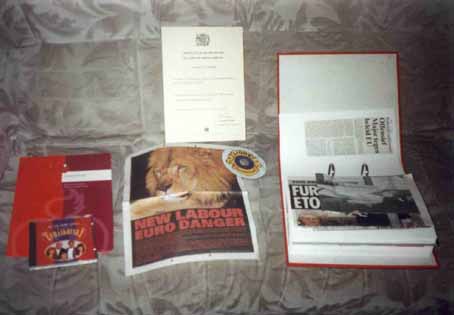 Back home I read that Mr Major made a speech in BRUSSELS: the 'hole of the Lion'. This Lion deposited his Business Plan in BRUSSELS on the 6th of November. The Lion has a red tear in his eye. I agree completely with Mr Major concerning the over regulation in social policy in our continental countries. Every person must have the right to work according to her or his personal capacities and never be limited. We need active and positive participation of every member of the Union to build up an ideal society. Everyone must have the right to work as long as he or she wants to work to avoid social inertion and consumer's behaviour.