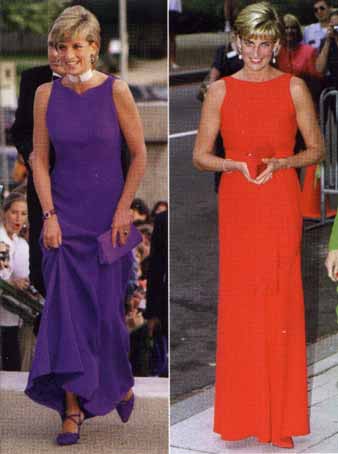 Education & Training, Recruitment & Selection, Management, Business Consultancy, Travels, Translation Services, Interpret Services, Public Relations, Communication, Publishing, Spanish in Spain and Latin America, America, Enterprises, Air Lines, Automation, Internet, Productions, Insurances, Hotels, Football, Princess Diana Stadium, Television, Real Estate.
P.O. Box 689. NL 3500 AR UTRECHT. Kingdom of the Netherlands. Diana Princess of Wales Memorial Fund. KENSINGTON PALACE. LONDON W8 4PX. UNITED KINGDOM. Concerns: EUROPEAN CERVANTES FOUNDATION. Reference: JH/PDMF971125. Utrecht, 25 November 1997. Dear Sirs, Herewith you find copy of my Letters to Diana, Princess of Wales on floppy disk. Diana influenced the nation and the world and I influenced Diana as you will see reading those letters. Therefore I give you my permission. As you will probably know I visited KENSINGTON PALACE last 22 April and 18 August.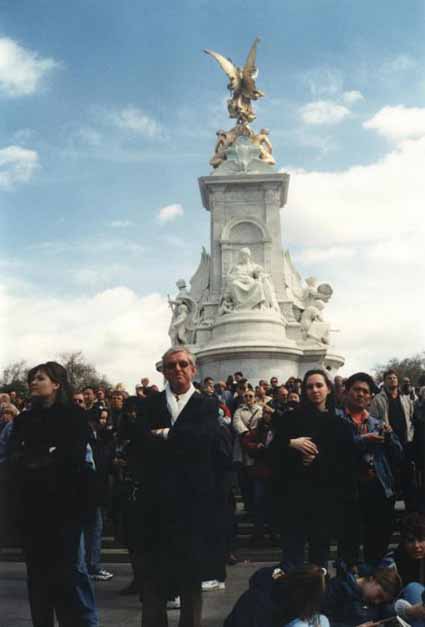 On 22 April I delivered a painting representing a new organization after having proposed to Lady Diana on 28 December 1996 as you will see on the back side of enclosed Certificate of Incorporation Instituto Cervantes England and Wales.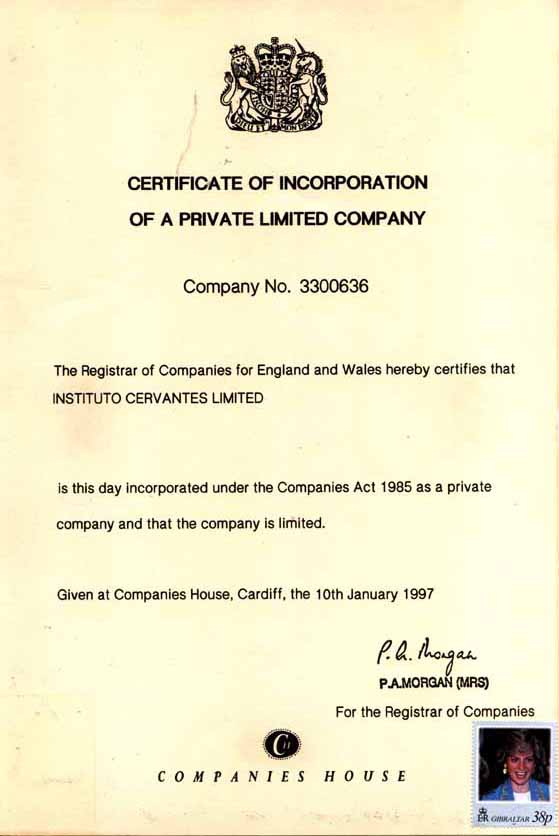 I know that She agreed with my ideas and I was expecting Her answer last month of September as I agreed with Her bodyguard, Sergeant David Sharp, at ETON COLLEGE on last 23 April. I am the legal owner of the trade mark Instituto Cervantes in the Netherlands, Belgium and Luxemburg, owner of the Limited Company Instituto Cervantes England and Wales and founder of the Foundation Cervantes Benelux. I invited and authorized my former colleague Miss Elizabeth Halbertsma, director of the Management Centre of the Dutch employers' organization VNO-NCW, to change the Limited Company into a Holding Company with Business Units. Knowing Miss Halbertsma's sense of responsibility she has done so. I invited Earl Charles Spencer to become the President of that Holding Company and I am the Vice President now if the parties concerned have done what I requested. Last week I decided to change the Foundation Cervantes Benelux into European Cervantes Foundation in order to set up charity projects for Spanish speaking people in Princess Diana's spirit as I promised to Her already during Her life. Diana will also posthumously be the First President of that Foundation. Therefore I have the Honour to invite you to take part in the government of the European Cervantes Foundation. All I ask you back is to cover my expenses that I made to set up the foundation and the organization. I also need a publisher to publish my letters in order to raise money to finance the Holding company. I already requested the collaboration of Harper Collins Publishers as you see by enclosed letter that I received back. Of course I want to do everything in close consideration with all parties involved. Therefore I will visit London for the third time this year from next 22 till 26 December and stay in the Kensington Edwardian Hotel. In order to settle everything I will visit you on 22 December in the afternoon. I also intent to invite the Association Instituto Cervantes in Madrid to participate in the Foundation. I will also visit NatWest Kensington Royal Garden Branche to open the bank account for the company, Christie's, Harrods Knightsbridge and King's College Cambridge on Christmas Eve and Althorp on Christmas Day in conmemoration of My Lady. I request you to confirm receipt of this letter and the most suitable time for you to have a conversation on 22 December. I am also available in the evening. Thanking you very much in advance. Yours sincerely, JOHANNES L. VAN DER HEYDEN. Enclosed: Manuscript "Letters to Diana, Princess of Wales" on floppy disk in ClarisWorks (Macintosh), Certificate of Incorporation Instituto Cervantes Limited England and Wales with fragments of my Letters; Thanksgivings of the British Royal Family directed to J.L. Van der Heyden and to Instituto Cervantes NBLEW, date 19.9.97.; English version of the Business Plan Instituto Cervantes Netherlands, Belgium, Luxemburg, England and Wales on the same floppy disk under 'Diana'; Original letter FIFTH ROSE to Harper Collins Publishers.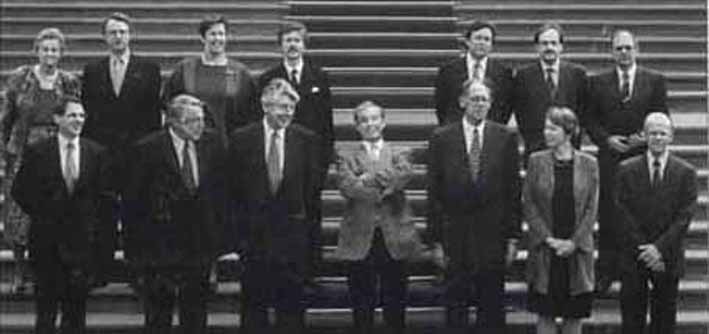 The first PURPLE GOVERNMENT of THE KINGDOM OF THE NETHERLANDS. First row from left to right Minister of Education, Culture and Sciences JO RITZEN, Minister of Foreign Affairs HANS VAN MIERLO, Prime Minister WIM KOK, Founder Instituto Cervantes JOHN VAN DER HEYDEN, Home Secrtetary and Vice Prime Minister HANS DIJKSTAL, Minister of Justice WINNIE SORGDRAGER, Minister van Finance GERRIT ZALM. Back row from left to right Minister of Public Health and Sport ELS BORST, Minister of Agriculture, Nature and Fishing JOZIAS VAN AARTSEN, Minister of Traffic and Water Management ANNEMARIE JORRITSMA, Minister of Defense JORIS VOORHOEVE, Minister of Economical Affairs HANS WIJERS, Minister of Social Affairs and Labour AD MELKERT and Minister of Development JAN PRONK.
LETTERS - ON BEHALF OF LADY SARAH MAC CORQUODALE