Education & Training, Recruitment & Selection, Management, Business Consultancy, Travels, Translation Services, Interpret Services, Public Relations, Communication, Publishing, Spanish in Spain and Latin America, America, Enterprises, Air Lines, Automation, Internet, Productions, Insurances, Hotels, Football, Princess Diana Stadium, Television, Real Estate.
Thursday. 24-07-1997
I read that from 2 till 4 October in The Hague a world congress will be held about Family Business, organized by 'Stichting Familiebedrijven Nederland (SFBN)', the Dutch branche of Family Business Network (Article enclosed). We have to start as soon as possible. Certainly now that all the stock exchanges are rising spectacularly. I give you the translation of the letter that I sent to Mr Blankert yesterday:
'VNO/NCW
Drs. H. Blankert
Prinses Beatrixlaan 5
2595 AK 's-Gravenhage
Date: 23 July 1997
Concerns: Sponsoring by trade and industry
Dear Mr Blankert,
In addition to my letters of 14 November 1996, 5 December 1996 and 30 January 1997 I would like to inform you about the developments after. After having received the Certificate of Incorporation of Instituto Cervantes Limited England and Wales and my appointment as Director of this Company I delegated my authorities in the United Kingdom in April of this year to the Princess of Wales. Meanwhile I proposed her to make a family company of it and to contract matrimony with her on 28 September. As she is now the boss over two countries (England and Wales) and I over three (Netherlands, Belgium and Luxemburg) formally seen I am her boss now and it is obviously a question of honour to be able to finance the activities around this marriage. Therefore I would appreciate if you could bring me into contact with some companies who are prepared to stand surety for the costs around this historical event, if she would agree with it. Which I expect. Concerning the developments I report periodically to my old-colleague Liesbeth Halbertsma, very known to you. I have no objections if you exchange ideas about this with her, or with Harry Starren. I hope to count on your indispensable support and to receive a reaction from you within a short term. etc. etc.'
I also give you the translation of my letter to Elizabeth of yesterday: 'Dear Elizabeth, I start again with an analysis of the horoscope of today. I have to get used to it, but in fact I am her boss indeed. Now she has the authority over two countries, England and Wales, and I over three: the Netherlands, Belgium and Luxemburg. I also find that she does excellent work. She has made herself an angel who gives consolation to everyone who is in troubles. I really want to honour her and regarding the positive feedback that I receive daily from England I still have full confidence that our family company can start on 28 September. Last Monday I walked around here over the Oudegracht and suddenly I heard a hissing noise. I thought inmediately of the 'Dragon Vision Wizard' and saw a moment later a green hot air balloon passing the Domtower with the message 'Even APELDOORN bellen'. So therefore I called next day Mrs Piekema of Palace Het Loo and reserved in principle the King William Room and the Anglican Chapel for that day. That business of course has to be financed and I will request Hans Blankert today to bring me into contact with possible sponsors from trade and industry. Virgo: 'Today you are completely in your Element'. I hope that it will be the company of the Winthontlaan in Utrecht. 'You feel better than ever. Go for a hunt for a new bikini or a nice swimsuit, visit the hairdresser and don't be concerned about what others say. Love is getting stronger.' I once intended to buy you a purple bikini, but meanwhile it has turned in one with the colours purple, red and orange. I sent that one on Valentine's Day to the United Kingdom. Last week she wore a swimsuit in the colours green (of the Institute of English Studies) and blue (Nassau). She jumped a hole in the air with it. The day after she was sitting as a cat without an escape on the roof of a house of a friend of her father. I decided to let her caught off, because I could not stand that any longer. Afterwhile I was called in the middle of the night at half past one out of my sleep with the question if I was going to marry her. 'That's right' was my answer and I find that we must the party let go on. I also had a short phone call with Eleonore. She is lying home with a hernia and so she is not able to do much, but I do hope that the inner circle remains active behind the scenes. The do-it-yourself project is the Diana Project. Meanwhile I have involved another person and permitted to speak with you and Schiphol Airport about it. It is Mrs M.E. van Putten-Cleveringa. She has an office with the name 'Reklame Effektief' with the product communication, ghost-writing, marketing, public-relations, advertisement full service'. Last Monday afternoon I had an extensive conversation with her and she left very enthousiastically. She will also get into contact with Mr R.L. de Jong, whom I gave my Business Plan last 10 July. I know him from 'nebib'. He promised me to get parties around the table from the recruitment branche in order to invest in 'Cervantes Recruitment & Selection'. That concerning the do-it-yourself project. Regarding the course or textbook I can report that I bought the books 'Introduction to the Ethics of Scientology' and 'Dianetics' of L. Ron Hubbard. This as a consecuence of the discussions that we ever had about ethics. The International Association of Scientology forms for me the ideal bridge to the United Kingdom. I have informed the Board of Directors of this organization of my proposals. Although I will not enter into their church we have a common objective: the promotion of ethics, integrity and human dignity. Last week I enrolled for their course 'Success by Communication'. Also on the basis of an advice that you ever gave me during a conversation on functioning. There was although a strong hitch. Last Saturday my wallet with contents has been stolen and also my agenda. So my information is again in criminal hands and I will be followed again by criminals as they now can trace my steps. Therefore I am obliged now to use a different agenda. I do not intend to run into their trap. I reported the situation to the highest possible security officers of the Netherlands and the United Kingdom, because I really want to make an appointment with my favourite between 17 and 22 August. I also sent the Business Plan to the Prime Minister of the United Kingdom and therefore I will also visit Downing Street during my next stay. I am expecting an invitation from Mr Blair. Also Mr Dehaene is on the role, but first I have to visit his future boss in BRUSSELS. Also within the framework of the coming happy event. I will translate my romantical feelings tonight in a fax message to the Editor of The Mirror and report them that I and My Lady will take over kingdom in England and Wales very soon. Then I will also become Head of the Church of England. Then the Prince of Wales can dedicate himself to Scotland as soon as Mr Blair has installed the new Scottish Parliament in Edinburough. Before a lot of security measures have to be intensified, because the day before yesterday I ran by accident into the murderer of Gianni Versace here in Utrecht with a woman's wig and remarkably disguised as a travestite. He had not been noticed for a long time in Florida, but Martinair has a nice flight's schedule. So I have had him be pulled in by the State's Secretary of Justice. That was it again for today. With Love, INSTITUTO CERVANTES, Netherlands, Belgium, Luxemburg, England and Wales, JOHANNES VAN DER HEYDEN, Manager Benelux. P.S. After my Heart Fitness today I also found a little bottle of Hotel Emperador in Madrid. Also there We still have to go to."
I'm not sure if Andrew Cunanan has been arrested already. This morning I had a short conversation with Professor Knol. As a result I sent him the following fax message: 'Dear Mr Knol, Thank you for the short conversation of this morning as a consecuence of my fax message of the day before yesterday. I think that concerning the exploitation of Company 2 'Cervantes Education & Training' indeed the company 'Reed Elsevier' will be the most eligible. I have also the opinion that they have to invest some millions in the company. I have no objections if they want to take over the complete management against the payment of a fixed fee for the use of the name and a part of the profit to the Holding, that I wish to convert into a Dutch-British family company. Elsevier disposes also of the needed infrastructure to serve a very good client of me: a very huge company that disposes of 5% of her turnover for education and training. I already agreed with this company that 'Cervantes Education & Training' will execute the job oriented education of the on the Spanish speaking market oriented personnal. Regarding the spectacular developments on the stock markets it is now THE moment to invest in my company. I am convinced that for a company like Elsevier it will be extremely interesting to bring their on the Spanish speaking market oriented activities under 'Cervantes label'. Doing so they will cover the complete market share in education and training oriented towards the Spanish speaking market. So a monopoly position. In case you have contacts with them I would appreciate if you would report this to them. For me goes although: 'Who comes first, grinds first'. Elsevier is a big name, but has not yet the worldwide reputation that I have with my 'Instituto'. With kind regards, etc etc.' To be clear: the indicated client is Amsterdam Airport Schiphol. At the Vreeburg I met Jolanda in the Dianetics Bus.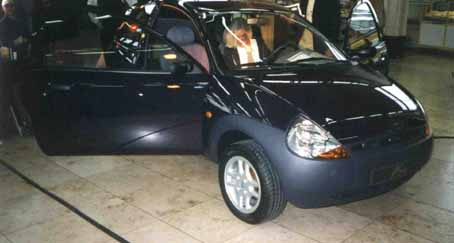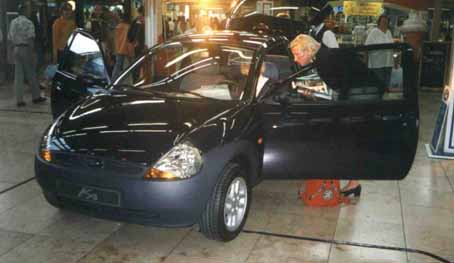 At Hoog Catharijne I delivered a letter to the Promotion Team of Ford Ka with the text: 'Promotion Team Ford Ka, Hoog Catharijne, Beating Heart of the Netherlands. Date: 24 July 1997. Concerns: Test-drive. Dear Promotion Team. I would like to make a test-drive with your lovely little Purple car. From Utrecht to Kensington. With kind regards. Yours sincerely, etc. Enclosed: 'Paars vol lof over Kok en Van Mierlo'. P.S. This signature is worth more than your little car.' They have to invent something creative.

25 JULY 1997 FAX MESSAGE TO MRS VAN PUTTEN CLEVERINGA