Education & Training, Recruitment & Selection, Management, Business Consultancy, Travels, Translation Services, Interpret Services, Public Relations, Communication, Publishing, Spanish in Spain and Latin America, America, Enterprises, Air Lines, Automation, Internet, Productions, Insurances, Hotels, Football, Princess Diana Stadium, Television, Real Estate.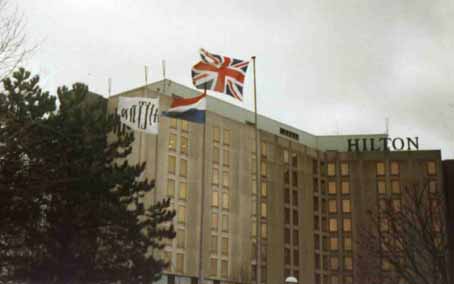 Wednesday, 13-02-1997
I start relating my experiences of yesterday. The conversation at Amsterdam Airport was very interesting. We agreed that after the realisation of the new VIP and Press Centre the meetings of the future five country managers for Belgium, Netherlands, Luxemburg, England and Wales will have their meetings and press conferences there when they have to communicate a decision to the press (1999-2000). This new VIP Centre still has to be built and will give us the possibility to meet each other without being seen by others. A new activity of Schiphol Airport will be the building of a Skyport Meeting Centre in Amsterdam, BRUSSELS, London and Madrid. I committed myself to participate in this project. A personal action of my conversational partner will be the service for handicapped persons for which he asked the assistance of the new Princess Diana Fund, that I promised to set up for you in the Benelux when I have the energy. Schiphol Airport deals with 90.000 transactions a year for handicapped persons. In March they will have a congress for handicapped persons in the airports of London. They should like to can count on your support in Britain because in their vision the service for disabled persons in the airports of Britain has not yet had much attention. They also work on a similar project with the 40 airports in Spain in collaboration with AENA. The airport of Alicante deals with a number of transactions with disabled persons similar to the total number of England and the Benelux. The project in Alicante is directed by Mr Oleara. The objective of the project is the organization of a door-to-door service for disabled persons, starting in Madrid and Alicante. Amsterdam Airport works together with the IHD, the International Help for Disabled organization. It would be a wonderful project for you. A better one than the ELTON JOHN's AIDS foundation, where you have been abused. He also will consider a MIP room at Amsterdam Airport. Business like Amsterdam Airport will be interesting for Instituto Cervantes. Five percent of the turnover of the airport will be spent on functional training and education. Part of the educational programme can be carried out by Cervantes Education & Training. An office of Cervantes Recruitment & Selection can be established on Amsterdam Airport, to start with. Management exchange within these fields as well as in the field of automation and management development is desirable for both parties. Madrid is the only airport with growth capacity. A fusion between KLM and Iberia will be interesting therefore. I already proposed the KLM management to call the new company 'Cervantes Air' when it comes to a fusion. Now British Airways can join the business as well. I also spoke with an old colleague of mine near the Spanish Instituto Cervantes in Utrecht. At this moment he is not available for the organization. In Nijmegen I spoke in the taxi with a British Philips' manager. He was from London and lives in Canterbury. I told him about my holidays in Britain and my application. We also discussed your television programme and agreed that you are doing a wonderful job, worthy to a real queen.
I reject questions to you by journalists about political matters. That is not the role of a queen. In the personal field I had a conversation today with my estate agent. He will sell my house. I also requested information about houses for sale at some British estate agencies in the surroundings of Stratford. I sent them the Certificate of Incorporation of Instituto Cervantes Limited. I seem to be known there already. I received a declaration (verklaring) of Instituut Blankenstijn concerning my educational activities for that private school last year (enclosed). Now I turn to the horoscope. The horoscope of Grand Russel fits exactly so I limit myself in translating the one in de Telegraaf.
The newcomer is George. He called this morning and we appointed for February 26 on Hilton Schiphol. I reported him of my visit of yesterday and sent him the Business Plan and a letter in which I invited him to accept the function of Commercial Manager and the first task to appoint five country managers, starting with Peter in the Netherlands and eventually Elizabeth in England if she wishes. I encouraged him to ask questions. I also sent the Business Plan to my quickest pupil and the same message given to George. The most appropriate network will be the network of Henley Management College. I wrote the management of the Dutch establishment of this institute that I had been inspired to the foundation of Instituto Cervantes Limited by my visit to Henley the 6th of August last year. Today I received their documentation. Their programme seems to be ideal to translate for the benefit of the British Spanish relationship. I read that the Henley International Network is supported by representatives and associated organizations in 25 countries worldwide. So they will be the ideal collaboration partner in setting up the English and Welsh establishment of our organization. I am very enthousiastic about what they sent me. Perfect.

14 FEBRUARY 1997 VALENTINE'S DAY 1997