Education & Training, Recruitment & Selection, Management, Business Consultancy, Travels, Translation Services, Interpret Services, Public Relations, Communication, Publishing, Spanish in Spain and Latin America, America, Enterprises, Air Lines, Automation, Internet, Productions, Insurances, Hotels, Football, Princess Diana Stadium, Television, Real Estate.
Tuesday, 5-08-1997
I never made a romantical slip up. This must consider E. The only thing that I did once was writing her a letter to express what she meant to me as a colleague after the long year's bad experiences that I had had with other colleagues. I also sent her fifty red roses to her house after she had had to dismiss me on financial grounds, because I had compassion with her. I know what it means to have to dismiss your own colleagues. There is nothing romantical unfortunately. On the contrary. Yes I did miss her as my colleague because we understood each other perfectly and we formed a perfect team. And I kept supporting her also after my dismissal. On 10 September last year I delivered personally a letter for the Queen at Paleis ten Bosch in which I recommended her as my best colleague. I had become already acquainted to visit royal palaces. Today a year ago I visited WINDSOR CASTLE with my boys.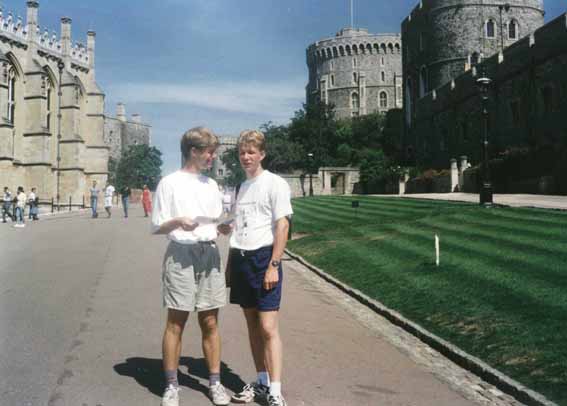 We started with visiting Saint George's Chapel studying the lifes of the British kings. Then a kind lady explained us all about The Order of the Garter. As far as I can remember her name was Spencer and she was a lady in waiting of Queen Elizabeth. Then I made a photograph of the Royal Guard and he reacted with a salute.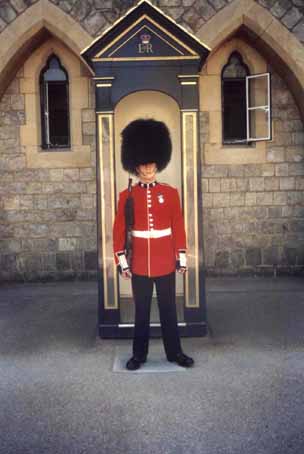 In your well known State Rooms I told a Spanish visitor that it was forbidden taking photographs inside. He reacted with 'Señor Van der Heyden estamos entre amigos'. I also remember the lady of Covent Garden who offered the bunch of heather with the message 'It brings you luck'. Tomorrow is the day of Henley. From there I wrote a poem to my dear queen of the coast and I will remind her of that today and also write her this story.
Events: Conversation with Professor Knol at the Heart Fitness.
Letter Review and Preview with the message that I consent mutual interchange of my information between the two of yours. Fax message to NeBIB about two possible financiers. Interesting. Fax to Mr GG with the same information. Fax message of Jones Lang Wootton with confirmation of the visit to Sparrenheuvel on 3 September 15.00. Briefing to security agent and demonstration of his security system. Very good. He will get into contact again in June 1998 on occasion of the protection of Sparrenheuvel. Visit of Mark. Reading of page 15 of The Sun about the Queen Mum's 97th birthday.
My sincere congratulations on the birthday of the great-grandmother of your children. It's unique. It's amazing how tall the boys are becoming nowadays. I note that William already strikes a very distinguished figure and that Henry VIII, Charles II and Ethelred the Unready are all thought to have been of the same height, but no official records have been kept. He is going to be an amazing King. I remember that the queen mother visited Lord Leicester's Hospital some time ago. I joined my first official Anglican service in St. Mary's together with the Master of that hospital, singing side by side the beautiful songs of that service.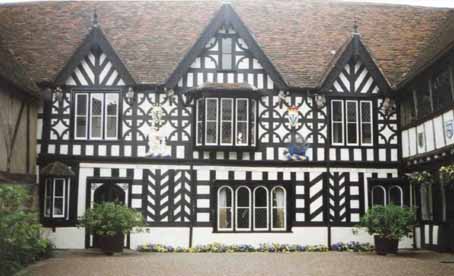 The reverend was Mr David Brindley. The Anglican Chapel in Palace Het Loo contains 41 seats. I noted that the King's Troop Royal Horse Artillery gave a 41-gun salute during the ceremony. As you see I am getting more and more interested. Perhaps it is not necessary that I publish the advertisement because the procedure of NeBIB is more careful. I will see. But it is nice indeed that I received a fax message from William Properties. I found out that there is a tapas bar here nearby. I will go there in order to amplify my contacts with Spanish friends. Back from Tapas bar El Mundo, Voorstraat 18. It is the same street where I met Cunanan. I reported this to the bar keeper. It is a nice bar with the terrace on the roof of the house. I will go back there. Specificly on Thursday evenings when there is life music. There are not many Spaniards but I taught the clients a lot of Spanish already. Also the bar keeper because of the beautiful photograph he had of the Real Academia Ecuestre in Jerez de la Frontera that I visited in 1992. I remember that from there I sent a postcard to Elizabeth. Next year the next World Ecuestrian Games will be held in Jerez. The last time was in The Hague, but that has produced a financial problem. Elizabeth was part of the organization, but the financial problem has been solved very well. So you see: For every problem there is a solution. I wonder if Professor Knol is aware of that. He is in contact with a participation company disposing of one hundred million guilders. I told him that I will allow them to participate in the Cervantes Project. Let's see which present the Wizard is going to conjure up out of his hat. I promised him a commissariate. Perhaps We can give him a noble title at the end.