Education & Training, Recruitment & Selection, Management, Business Consultancy, Travels, Translation Services, Interpret Services, Public Relations, Communication, Publishing, Spanish in Spain and Latin America, America, Enterprises, Air Lines, Automation, Internet, Productions, Insurances, Hotels, Football, Princess Diana Stadium, Television, Real Estate.
1-07-1997
Happy Birthday, Love! I can not sleep. I am staring at the ceiling all night long and drinking Orange Juice. I see You beside me. On my right hand at the centre of the dining table of Palace Het Loo and I am preparing speeches: 'Dear Friends, Queridos Amigos, Waarde Vrienden'. I see you in a red dress on my right hand and myself wearing a purple tie. I see you lying in my arms like in Vanity Fair. I see the magazine of the Lion in purple letters, a yellow background and the photograph of a child in red and an article about Mr Frits van Wesemael, who knows me very well. I think of Gaspar during the wedding between William of Orange and Charlotte de Bourbon in Den Briel on 12 June 1575. I think of Princess Margriet in Her Nassau blue dress and yellow orange roses to conmemorate Eleanor and Franklin D. Roosevelt and the significance of the name: Rose Field. I also think of the Roosevelt Foundation in Middelburg - former parish of Gaspar -, the Four Freedoms Award and the Prix Charlemagne and I see Queen Beatrix before me with Queen Sofia during their cruise in Norway. I am very happy that they are so good acquainted with each other. I like Queen Sofia very much. I saw Her in the eyes for the first time in Salamanca in May last year. She waved friendly to me.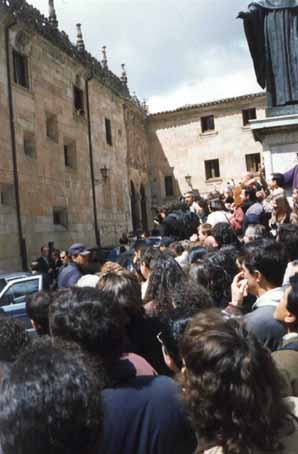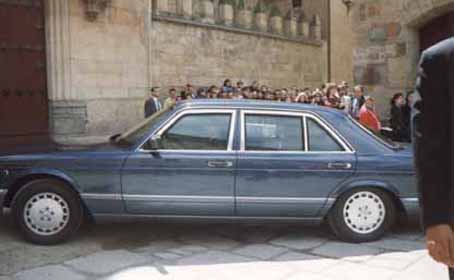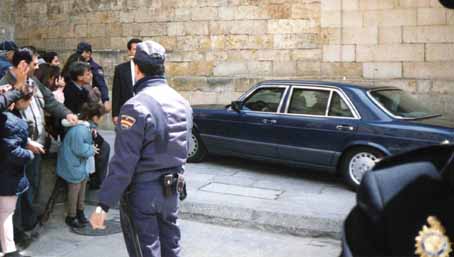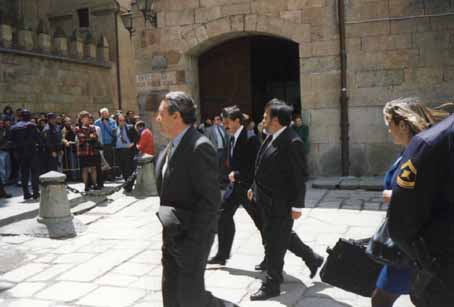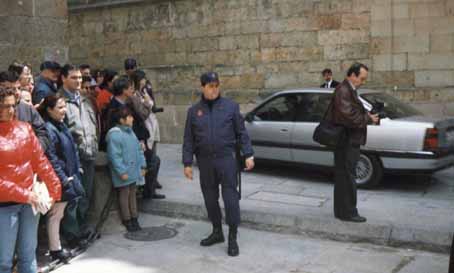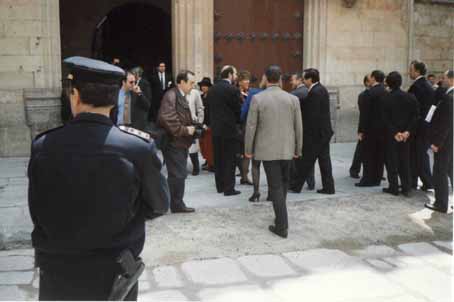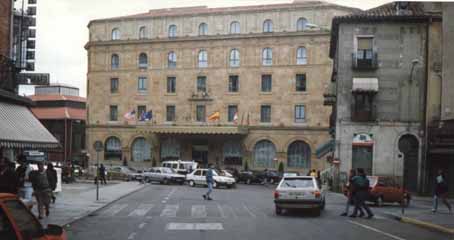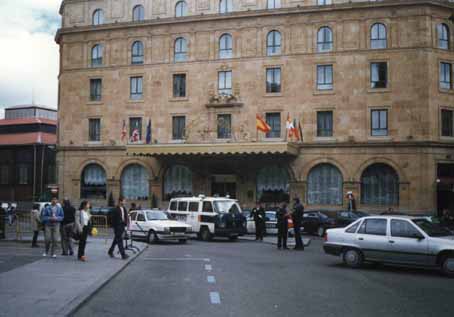 I think I have to explain in APELDOORN why I chose for Cervantes and for a new Dulcinea. In Red this time and I close You in my heart again. Another Golden Cage I realize. But this is true love as I feel it. Then I went into a dream. I saw a room in Het Stadhouderlijk Hof with yellow and deep blue.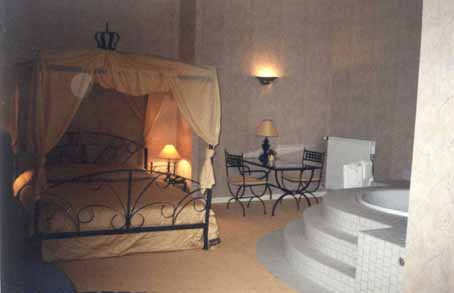 And what I dreamt is to beautiful to describe. Like in former days when I was in love. But those times are over and I awoke. Alone. Staring at the ceiling and I see a book with golden letters DIANA, Her New Life and hope that I also may have the happiness of a New Life. For the Last Time. To Di For.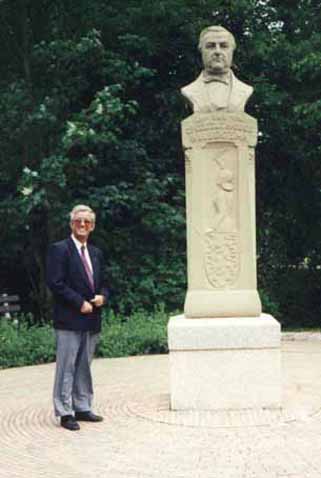 It's five o'clock now. I hear the chimes of the Dom Tower and hear voices singing. Pastime with good company, The silver swan, Sing We and chant it, Fair Phyllis I saw, Ah Robin, gentle Robin and I think of the Town Hall here nearby where our queen has visited some days ago incognito the exhibition of the artist Pieter d'Hont and must have seen my purple signature. It is getting time that you can travel incognito again as well. The number of British people is increasing around here but this time I only hear angels singing and I drink on your happiness. Come back again. Please Diana. Come to the Hyde. I want to be happy again after all those times.
I continue with the horoscope of today after my first fitness training that I will take every day in July from now on. Scorpio: 'If you go shopping you can buy something special. You know exactly what something is worth. This is an appropriate period to buy and sell or having estimated things.' The only thing that I am interested in at the moment are the yellow and blue sunglasses of my neighbours. Specifically because they are adorned with sunflowers. So I paid them a visit and told them that I want to take them with me to Het Stadhouderlijk Hof because it reminds me of that beautiful room from which I sent you a photograph some time ago after Christmas. I still carry this photograph in my wallet and I am prepared to share that room if you would wish so. The secretary of Vedior does not want to have paid the glasses. A very nice gesture. Virgo: 'You are possibly going in search for a new partner. If you are already committed and content you will find a way to activate your love life. Also a new job may come up.' So you see. You are welcome. I am waiting for you, Love.
From the Lord Mayor I received enclosed letter concerning the Business Plan. I translate: 'Dear mister Van der Heyden, I took notice of your Business Plan. On your request to change thoughts with you about collaboration with the institute on the Domplein I will not get into. Regarding the problem given by you this is a matter between the directly involved and the Chamber of Commerce. Yours sincerely, The Lord Mayor of Utrecht, mr. I.W. Opstelten". In fact there are only three main parties concerned: Juan Carlos, You and Me. This time the Chamber of Commerce enters into the picture. It may be a good mediator.
I see in The Mirror on Page 17 that the dress of lot 5 is your favourite. I hope to get it back for you. I'll be curious what Mr Whitaker is going to do with my information. A photographer in England has my photograph already. Taken on 22 April before BUCKINGHAM PALACE. England also knows who is my favourite and I am happy to see you shining on page 21 on a purple background. I love you so much. So I stuck those beautiful pages on my door and I read "Princess Diana celebrates her 36th birthday today and begins a fresh chapter in her life - as a single woman again. And I added with red ink "For the time being". The English horoscope. Cancer: "The focus of your day changes from your personal feelings to money matters. That doesn't mean you feel any the less strongly about what occurs, but instead of concentrating on your own emotions you get emotional about cash instead. That said, apply some logic!" It means that love and investments can go together. Scorpio: "A powerful person is about to figure in your life in a remarkble way. If the VIP is female then all the more auspicious. And don't be concerned if nothing seems to be happening on the surface over career or cash - it's all going on behind the scenes.' I think Mr Russel Grant is completely aware of my situation. That's good.
At 15.15 I receive someone of the police to discuss security aspects. I am so glad with the collaboration of The Mirror. HAPPY BIRTHDAY DI in purple letters and your life story since your 21st and I see your book before me. I can understand why you went to the Harbour Club last year. I hope you enjoy your visit at the Tate Gallery tonight. I celebrate your birthday by listening to The London Symphonies Nos. 93-99 of Joseph Haydn and the Antología de la Zarzuela from the Orquesta Sinfónica y Coros de la Radio Televisión Española. Meanwhile I read the former letter and notice that I will stay in Britain until 21 August. Regarding your photograph on page 21 today I may presume that I can remain some days at KENSINGTON PALACE to talk some things over. The first problem that has to be solved now is the collaboration with Juan Carlos and I think Your Palace would be the most suitable place to receive Him.
Regarding the letter of Mr Opstelten I think It would be the best solution that I remain with you at KP For Ever! Now I also understand your sunglasses last year. I saw a lot of them in Canterbury on the First of August. And I am aware that 'the enemy' has been beaten. Thank You Love of Mine! Thank You Very Much Indeed! I also think of Our Problem to be solved. It is a New Delta Plan consisting of Juan Carlos, John and Diana. Terminé la Celebración con escuchar la Música de los Amigos de Sánchez: Arte y Compás. I am specificly touched by the song A Mi Manera: I do it My Way! ¡Te Quiero!
HAPPY BIRTHDAY MY LOVE!

2 JULY 1997 LADY DIANA FRANCES SPENCER, MY QUEEN OF ENGLAND AND OF WALES