Education & Training, Recruitment & Selection, Management, Business Consultancy, Travels, Translation Services, Interpret Services, Public Relations, Communication, Publishing, Spanish in Spain and Latin America, America, Enterprises, Air Lines, Automation, Internet, Productions, Insurances, Hotels, Football, Princess Diana Stadium, Television, Real Estate.
Instituto Cervantes Neude 30C NL 3512 AG UTRECHT Netherlands Fax and Telephone *31 30 233 15 74 Mr G.P Mitchell HM Inspector of Taxes Bench Street Dover - Kent CT16 1RG UNITED KINGDOM Concerns: Your reference 240 67551 27448 A Our reference: IC/IR980810 Utrecht, 10 August 1998 Dear Mr Mitchell, From Seagull Legal Services Ltd. in Folkestone I received enclosed Dual Resident Company Questionnaire this weekend. I refer to my letter IC/IR970625 on which I received your reply from 29 July 1997 (copy enclosed) with the text: "Dear Sirs, Thank you for your letter dated 25 june 1997. I can confirm that your file has been made dormant and it will be reviewed in due course. Yours faithfully, L. Waller". The most important issue of that letter concerned the
ENQUIRIES ABOUT THE DIRECTORS
1. Lady Diana Frances Spencer, Princess of Wales, KENSINGTON PALACE, London W8 4PX. Head of the organization. National Insurance number: N.A. Tax Office and reference: Great Britain.
2. Johannes Lambertus Van der Heyden, Neude 30 C, NL 3512 AG Utrecht, Netherlands. Manager Benelux. National Insurance number: N.A. Tax Office and reference: The Netherlands

Taking this into account I give you the following answers to your questions.

1. Name of company: Instituto Cervantes Limited.

2. Registered Office addres:
80 Sidney Street
Folkestone
Kent
CT19 6HQ

3. Business address: As the consecuence of the fatal accident of my proposed partner in Paris on 31 August last year I went into a shock. As a consecuence the development of the organization suffered a desastrous damage. I refer to my letter of last year stating 'At the moment there are no activities. The only activity is the setting up of the legal framework of the new organization with its future headquarters in Stratford-upon-Avon. For further enquiries you may direct to Neude 30 C, NL 3512 AG Utrecht, Netherlands. Unfortunately there are no activities yet because of the circumstances. As a prove you herewith find the thanksgivings regarding my deceased partner on behalf of the British Royal Family directed to our company and myself. After Diana's death I authorized my former colleague Miss (or Mrs) E.H. Halbertsma, managing director of the Management Centre VNO-NCW in Noordwijk to act legally on my behalf in the United Kingdom and requested her to change the company into a holding company. Herewith you find a letter of de Baak directed to 'Instituto Cervantes Holding Ltd. De heer J.L. van der Heyden'. I have not yet received a confirmation that the change has already officially been registered. I prefer Earl Charles Spencer to become the president of the holding company. Then I will occupy the seat of Vice President in the near future.
4. UK Company registration number: 3300636
5. Names & addresses of directors: I am the only registered director at the moment as far as I can see now. I appointed a Manager Benelux in order to form a a board of gouvernors in good consideration with the Dutch and Spanish employer's organization. As soon as this process has been finished you will be informed about the definite result of the formation.
6. Particulars of shareholders: Also the attracting of shareholders is in process now. The only registered shareholders at the moment are myself and Seagull Legal Services Ltd. in Folkestone.
7. From where is the company effectively managed? See question 3.
8. Is the company regarded for the purposes of any Double Taxation Agreement as resident in a territory outside the United Kingdom, and not resident in the United Kingdom?* Perhaps. Decisions about this matter have not been made yet, because of the circumstances. For the good order I report that I handed last Christmas copies of all my 'Letters to Diana, Princess of Wales' (about 300 pages) to Queen Elizabeth II at BUCKINGHAM PALACE, The Office of Diana at KENSINGTON PALACE, The Prime Minister at 10 Downing Street London and the Family Spencer at Althorp House in Northamptonshire.
9. If the answer to question 8 above is 'yes', please state etc. N.A.
Declaration
I declare that the information given above is correct and complete, to the best of my knowledge and belief.
Yours sincerely, Johannes L. Van der Heyden Netherlands.
Enclosed:
- Your letter dated 29 July 1997
- Thanksgivings on behalf of the British Royal Family directed to 'Instituto Cervantes NBLEW' and 'J.L. Van der Heyden'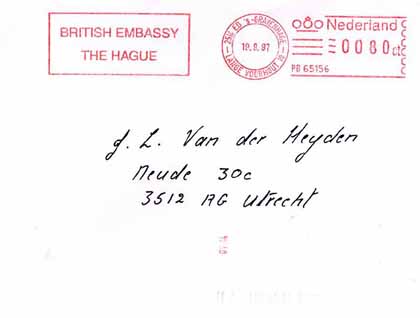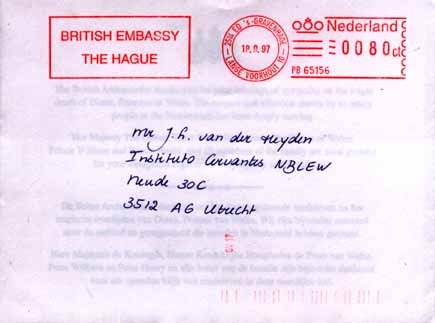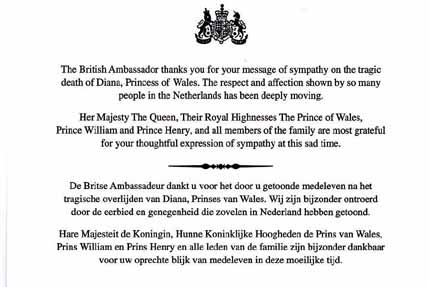 - Letter of 'de Baak' date 19-05-1998
C.C. Management 'de Baak' Noordwijk; Stichting Haags Juristen College, Laan van Meerdervoort 415, NL 2563 AR The Hague; Manager Benelux

28 JANUARY 1999 YOUR REFERENCE 240 67551 27448 A ON BEHALF OF HER MAJESTY'S TAX COLLECTOR IN DOVER