Education & Training, Recruitment & Selection, Management, Business Consultancy, Travels, Translation Services, Interpret Services, Public Relations, Communication, Publishing, Spanish in Spain and Latin America, America, Enterprises, Air Lines, Automation, Internet, Productions, Insurances, Hotels, Football, Princess Diana Stadium, Television, Real Estate.
Tuesday, 18-03-1997
'Constant hammering on the same string' was a favourite expression of my former colleague director of the Institute of English Studies. In 1980 this institute had 2400 adult students spread over the country learning Elementary English, Conversation, Fluency, First Certificate and Proficiency of the University of Cambridge. I realize that I took over his duties in 1981. It was a very hard job, but I did it with a lot of pleasure. Now I am looking forward to a new collaboration with a British Institute, Henley Management College. Yesterday I visited the process-server. He is willing to help me and give me an advice to hand the problem over to a Dutch lawyer specialized in criminal law with whom I may reach an agreement on a no cure no pay basis. I also visited Lucaya in Oz. They gave me key number A7 and I answered with 7-04-97. First I met a lady in a purple bathrobe and an orange towel. Of course I recognize the simbolism at once. Afterwards I found a yellow bathrobe next to my red towel. It reminded me of Peter. I wrote him a letter and invited him in my house on the 7th of April and to do his homework. In Lucaya I was slightly moved by an English lullaby and the music of Concierto de ARANJUEZ. I visited the former Palace of King Alfonso XIII in ARANJUEZ on Saturday the 23d of May 1992. It was the start of my ride through La Mancha. But it awoke also my interest for Spanish history.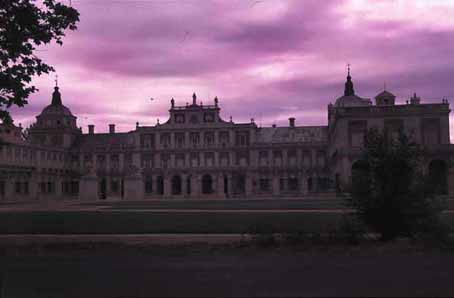 I hope it will be the contract of the foundation of the Princess Diana Fund from which you can continue your charity works on a worldwide scale in good collaboration with the European Cervantes Foundation. There is no need for suspicion in my direction. Just like your Prime Minister they may call me Honest John. Yesterday I was called by a person with whom I had a large correspondence of more then 400 pages. This person has a lot of resentment, but I wrote the whole correspondence in her favour as the result of her advice to work out my experiences in a case study. She may dispose of the whole correspondence. This would be a very important exchange and will certainly strenghten our business relationship. YP: I advised him to ask advices to George. He is an expert in business integration processes and belongs to our joint network.The newcomer may be Mr Fontein of Henley. I will call him now...... It was a pleasant conversation. Mr Fontein will invite me for the first information days in May for the new courses. We agreed that I will render him my services as a first step to a collaboration with the British institute. When I came home tonight I found a letter of my lawyer with the message that he had stopped the deposit procedure of the tradename Instituto Cervantes in Great Britain. I immediately reacted with a fax message with the text I wrote in my letter to you on that he has to go on.
15-03-97. I hope I can feather my nest in Walcote House. I received an invitation by Mrs Jane Heppel and reacted with the fax message: I acknowledge receipt of your fax message of today whith your kind invitation to show me around on Friday 25th April at Walcote House between 9 A.M. - 4.30 P.M.
The travel schedule in Britain will be:
April 21 - Departure Schiphol
April 22 - BUCKINGHAM PALACE
April 23 - ETON COLLEGE
April 24 - Henley Management College
April 25 - Walcote House, Royal Leamington Spa, Warwick
The continuing story is still open. I also intend to remain some days in Stratford-upon-Avon afterwards and I also pointed in my agenda April 18, St. James's Palace London. But that depends on an invitation for a visit to that Palace. I think a suitable time for a visit to you will be 2.00 PM. Unfortunately I have to ignore the demands of my President, who wrote me a letter that reminded me of your book and the period in which you have been accused for 'paranoia'. I have no 'paranoia-problem'. I only keep things secret that I share with a beloved person. The article Diana drives them dotty, covered by orange today in the Daily Mail, page 14, reminds me in that respect to a very special occasion. It was on the 19th of October 1990. That day Elizabeth met me at the station of Leiden and took me to NOORDWIJK. She announced: 'Today a new leader will be born'. In the evening we had dinner together and she honoured me with a speech, a kiss, a bunch of red roses and a ribbon with red hearts. I was delighted. Of course. I was aware that one has to suffer to reach leadership. Mr Mandela that you visited this weekend is the very example. When Prince Willem-Alexander visited South-Africa last year he visited Mr Mandela's prison on Robben Island. I inmediately had to think of the 'prison' that I had to visit from May 1993 until the first of December 1994. Mr Mandela seems to me a noble man with a noble character and high standards. I appreciate his remark 'It would be treason to kiss her.' Nevertheless I think you deserve a kiss for everything you did. To be honest: I love the pleasure you have with Mr Mandela, but I don't like the dress, unless it contains a golden heart.