Education & Training, Recruitment & Selection, Management, Business Consultancy, Travels, Translation Services, Interpret Services, Public Relations, Communication, Publishing, Spanish in Spain and Latin America, America, Enterprises, Air Lines, Automation, Internet, Productions, Insurances, Hotels, Football, Princess Diana Stadium, Television, Real Estate.
Thursday, 14-08-1997
This morning I awoke with an idea: 'Diana, I want a child from you. A New Prince or New Princess. A Real One.' It is the first time that this ocurred to me. But that would be wonderful. Don't you think so? And if it would not be possible, then I still want to collaborate with you at KP. Yesterday evening I sent the following fax message to Mr Sharp: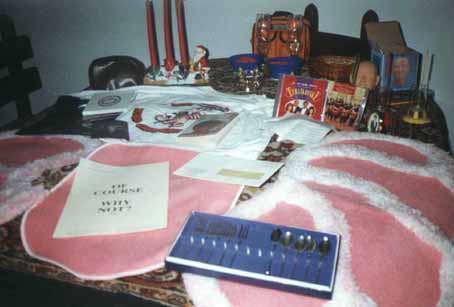 Next Visit. Today I received enclosed new Project Profile 40308. I translate the text: Temping agency for Dutch and English speaking people with knowledge of Spanish. Legal body: b.v. Financial data: financial year: 1998/1999 forecast. Turnover 1 - 2 mln, gross margin 30 - 40%, companies result < 100.000 guilders, cashflow 300.000 till 500.000 guilders, own capital 300.000 till 500.000 guilders, personnal 2 - 5.
sector: Education & Employment-finding
region: The Netherlands
size needed financing: 100.000 till 500.000 guilders
sort of financing: mix risk capital
purpose of financing: new enterprise
desired interest of third parties: more than 80 %
risk profile project: high
return project: 16 till 25 %
term of financing: more than 5 years
certainties offered: no
PROFILE DATA WANTED financier
category wanted financier: private person and/or company
available capital: as from One Million guilders
sector: provision of services/trainings
sort of financier: participant
DETAIL PROFILE:
Employer offers together with experienced organizer a solution. Exclusively on Spanish speaking markets oriented companies become client. Preparations and international network are interesting, but specificly reinforcement in the commercial field and investors are needed. These can be found as well as between informals as between visionary service providers. One "joins" till 300.000/400.000 guilders.
So that's the start in the Netherlands. Now We can build up The Business in England. I may presume that the father of your friend has received my letter of last Friday already. I made some mistakes in the spelling of his name. My excuses therefore. I also may presume that your friend will take a minority participation in the company, also when I would marry you. I read 'No wedding says Diana' in the Daily Mail. That's good. Otherwise I have to look for another wife.
I sent next fax message to The Management of de Baak: "Dear Colleagues, I read the front page of the 'Daily Mail' of today. That's good news. Is'nt it? Next Sunday I hop over to England again and will send you a postcard from KP. Added you find the new Project Profile of NeBIB. So someone can start the business here and I am going to do some development exercises in the United Kingdom. The Prime Minister knows already that Education is my Core Business. Yours sincerely. With kind regards and till next time. INSTITUTO CERVANTES, Nederland, België, Luxemburg, Engeland en Wales, John Van der Heyden, Manager Benelux, (until today), Added: Project Profile 40308 of 'nebib' dated 12-08-1997" I read in the Daily Mail, The Sun and The Mirror the following articles:
"No wedding says Diana", 'A seance? No, we visited the sick'. I noticed that you visited a clairvoyant and Harrods brought a special delivery to KP in the colours of the Institute of English Studies. Nice of them. 'Diana, beguiled by Mystic Rita', 'Don't let them fool us with this farce', 'A playboy will never make a woman happy. Believe me - I've known three", 'It's like being chased by a lion'. That must not be a problem. Most Lions are very well educated.
'WOMENEATER - Everything Di needs to know about her Dodi's sex life - by his best Man'. 'When it comes to girls, there aren't many speed bumps on Dodi's highway', 'I spy dotty Di and Dodi', 'Last time jobless total was this low, Lady Di was shy nursery nurse in that 'see through' skirt pic', 'Dodi's chopper visit to psychic in Chesterfield' by Royal Author Andrew Morton.
I sent the following fax message to Mr Morton: Visit to Britain. I continue with my news analysis. 'Beer we go'. It reminds me of Mr Alan Beer. 'Ritagate'. So it was not an accident that I awoke with the image o f a new daughter, a new princess. 'Could Wills be king of the catwalk?' 'Look what's in store if Di and Dodi say I do' by Little John. I would say 'Look what's in store if John and Di say I do'. I would invite amongst others:
King Juan Carlos and Queen Sofia, Crown Prince Felipe of Spain, Queen Beatrix and Prince Claus, Princess Margriet of Orange and Mr Pieter Van Vollenhoven, Prince Willem Alexander and Miss Emily Bremers, Prince Filip of Belgium, Prince Henry of Luxemburg, Mr José María Aznar and Mrs Ana Botella de Aznar, Mr and Mrs Kok, Mr and Mrs Blair, Mr Hans van den Broek, Mr Hans Blankert, Mrs Liesbeth Halbertsma and Mr Bart Heinrichs, Mr Hans van Mierlo, Mr Jo Ritzen, Mrs Els Borst, Mr Jozias van Aertsen, Mrs Annemarie Jorritsma, Mr Joris Voorhoeve, Mr Hans Wijers, Mr Ad Melkert, Mr Jan Pronk, Mr Gerrit Zalm, Mrs Winnie Sorgdrager, Mr Hans Dijkstal, Mr W.J. (Wim) Deetman, Prof. Dr. W. Derksen, Mr E. Heerma, Mr L.M.L.H.A. Hermans, Prof. dr. S.K. Kuipers, Mrs L.B.M. van Maaren-van Balen, Mr H.G. Ouwerkerk, Mr S. Patijn, Mr P. Rosenmöller, Mrs. E.G. Terpstra, Mr. J. Wallage, Mr G.J. Wolffensperger, Mr Ed Nijpels, Mr George Görtemöller, Our children.
That's a start of 50 persons. They can not all have a place in the Anglican Chapel, but I noticed that your agenda is empty for the second half of August and you will remain at KP. So that can be completely filled up with the organization of this event. I reported this to Mr Morton because you know him very well. I read that your friend loves poker. I also do, but in a decent way! On the terrace of the Neude I spoke with a boy with a T-shirt with the orange lettering: AS THE FINAL TOUCH GOD CREATED THE DUTCH!!!

15 AUGUST 1997 SO YOUR EX-FRIEND IS ENGAGED ALREADY IN AMERICA