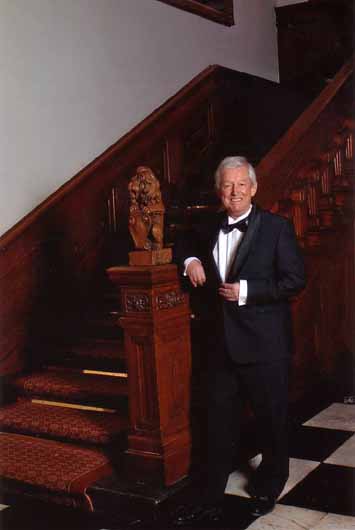 Education & Training, Recruitment & Selection, Management, Business Consultancy, Travels, Translation Services, Interpret Services, Public Relations, Communication, Publishing, Spanish in Spain and Latin America, America, Enterprises, Air Lines, Automation, Internet, Productions, Insurances, Hotels, Football, Princess Diana Stadium, Television, Real Estate.
The Chairman of Harrods Knightsbridge. Mr. M. Al Fayed. 87/135 BROMPTON ROAD. LONDON SW1X 7XL UNITED KINGDOM. Reference: JH/MAF990605. Concerns: REWARD Saturday 5 June 1999, Dear Mr Al Fayed, Some time ago I read in the press that you offer a one million pounds reward to those who will give you the information that will lead to the final solution of the questions regarding the fatal accident in Paris in the night of 31 August 1997. I do this here on behalf of the Stichting Cervantes Benelux to be converted into European Cervantes Foundation. First of all I give you a chronological summery of te developments as from April 1992. In that month I deposited the name Instituto Cervantes as a trade name for the category courses, trainings and education at the Benelux Trade Registrar. In October of the same year I also founded the Foundation (Stichting) Cervantes Benelux and afterwards I developed my businessplan. In June 1996 I established a permanent legal right to use the name Instituto Cervantes in the Benelux, as you know. On 31 July 1996 I offered the Crown Princes of Spain, Luxemburg, Belgium and The Netherlands to participate in the government of my foundation. The next day, the first of August 1996 I went to England and lighted a candle ("in the wind") in Canterbury Cathedral for Princess Diana because She found herself in an incredibly difficult position at that time. The day of Her divorce - 28 August 1996 - She received 28 royal roses on my behalf. That was the start of the proposed family-company Van der Heyden/Spencer. As I noticed that She was interested in my plans I decided to keep Her informed about the developments and wrote Her a letter every week. Herewith you find copy of the letter that I received from Het Stadhouderlijk Hof in Leeuwarden, the cradle of our Royal Family. It says that Princess Diana had tried to change Her agenda to celebrate Christmas together with me in the Netherlands. The fact that She used three times the word 'unfortunately' (helaas) was to me the indication that She was anxious to get in touch with me. Therefore I translated my Business Plan into English and sent it to Her at St. James's Palace in the same month. On Her command I celebrated Christmas in Het Stadhouderlijk Hof with an empty chair. Nevertheless this was reason enough to send Her a marriage proposal. In the same month - December 1996 - Her lawyer, Mr Anthony Julius, who also had arranged Her divorce settlement, made up Diana's Last Will. At the same time I founded the Limited Company Instituto Cervantes England and Wales.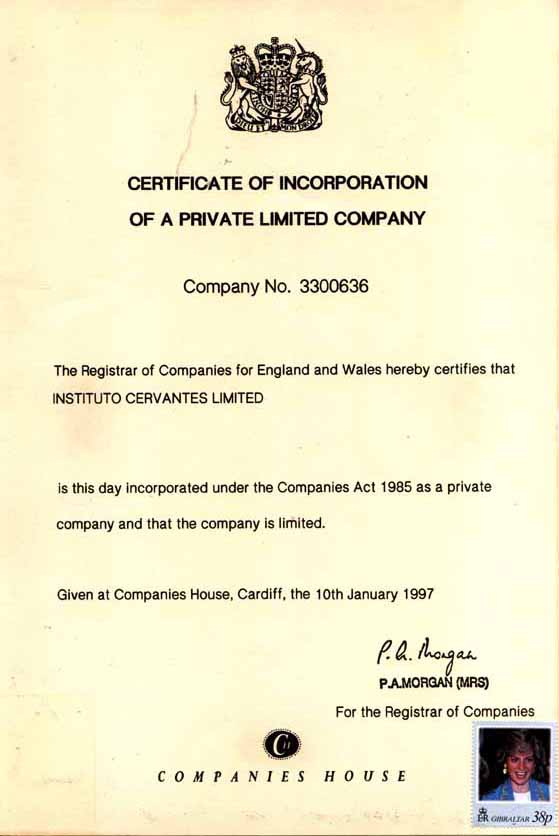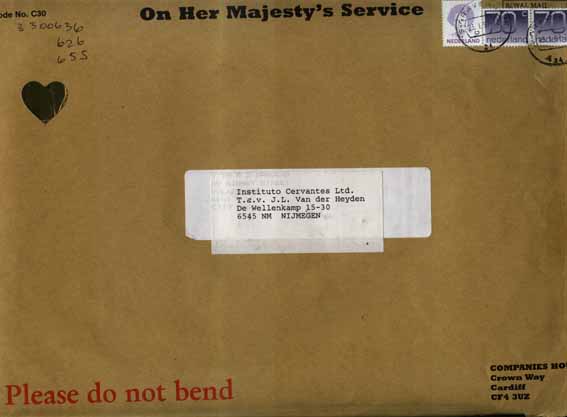 I proposed Diana to make it a family-company as from 28 September 1997. Therefore I went to England in April of that year. On 18 April I delegated my authorities in the United Kingdom to Her in a written and certified letter.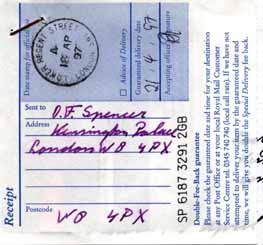 22 April - exactly five years after my divorce and the registration of my trade mark - I attended the Changing of the Guards before BUCKINGHAM PALACE, after having requested to see it from the inside and brought my Christmas present for Diana to KENSINGTON PALACE. Unfortunately She was not at home at the time although I was brought there by a friendly Egyptian taxi-driver from Earls Court. The day after (23/4) I had a conversation at ETON COLLEGE with Sergeant David Sharp, Her bodyguard. He disposed of copies of all the letters that I had sent to Her and advised me "to stay away from the royal palaces for the time being". I agreed and advised him to take all security measures untill I would return at the end of August 1997. Mr. Sharp promised me that I would receive an official letter in September from KENSINGTON PALACE. I regarded that as a positive signal and took my preparations for my planned marriage or official engagement with Diana on the coming 28 of September in the Anglican Chapel of Palace Het Loo in Apeldoorn. That is the reason that I sent you the fax-message on Friday 29 August 18.30 continental time because I realised that Diana had some sympathies for your son. I followed every development considering the situation with great care in the press. I noticed that you have declared that Diana was willing to marry your son Dodi. Regarding that situation I must disappoint you in this letter. The only official reaction of the Princess of Wales in this case was published in the Daily Mail of 14 August with the heading No wedding says Diana. That was logical. First of all She had to react on my letters before taking a decision and to consult her children. Therefore on August 27 I sent a letter with an Honourable Proposal to Her Royal Majesty the Queen at Balmoral Castle for an official Royal permission for a marriage with the Princess of Wales. Also to pay a contribution to the education of Prince William as heir to the throne as the legal husband of His mother, because education is my core business. With Christmas 1997 I went to England again, as you know. This time with seven samples of my Lettters to Diana (300 pages) and I delivered them at BUCKINGHAM PALACE, KENSINGTON PALACE (Office of Diana), 10 Downing Street, Christie's King Street (Lord Balfour), Kings College Cambridge, Althorp House and St. Mary's Church in Warwick. Last year a false last will from 1993 has been published by the lawyers of Boodle Hatfield in London. I advised The Prince of Wales not to pay the bill and to respect the express wishes of the deceased. Herewith you find His reaction from 13th October, 1998. And now the information were you are looking for. To recover from the shock of the sudden death of My Lady I moved for the time being to an appartment in the south of Spain, where Diana's Quixotic Quest had started. Here in the street I found a white Citroën AX with license plate number MA 9850 AZ. I am almost sure that this is the car that got in touch with Diana's Mercedes in the fatal night. The actual owner lives probably in Calle Roquedal number 13.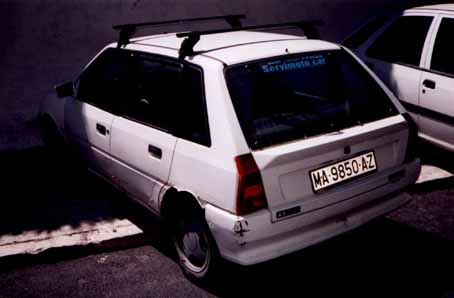 I do not believe that there has been a conspiracy against both, but that the driver has tried to remind Diana of a Special Event taking place on the First of July 1998, Her 37th birthday in The Netherlands. I kindly request you to transmit the promised one million pounds for this information to Postbank number 4729266 of the Stichting Cervantes Benelux in Utrecht. Next 12 June I return to THE NETHERLANDS. So you can send your reaction to P.O. Box 689, NL 3500 AR UTRECHT, The Netherlands. Thanking you in advance for your collaboration. Yours sincerely, John L. Van der Heyden. Enclosures: Letter 'Stadhouderlijk Hof' dated 13th November, 1996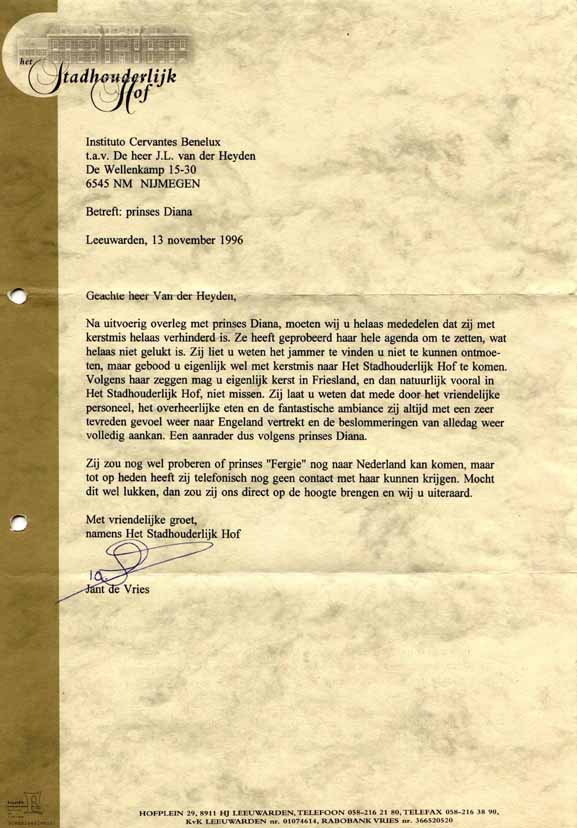 Letter from The Office of HRH The Prince of Wales dated 13 October, 1998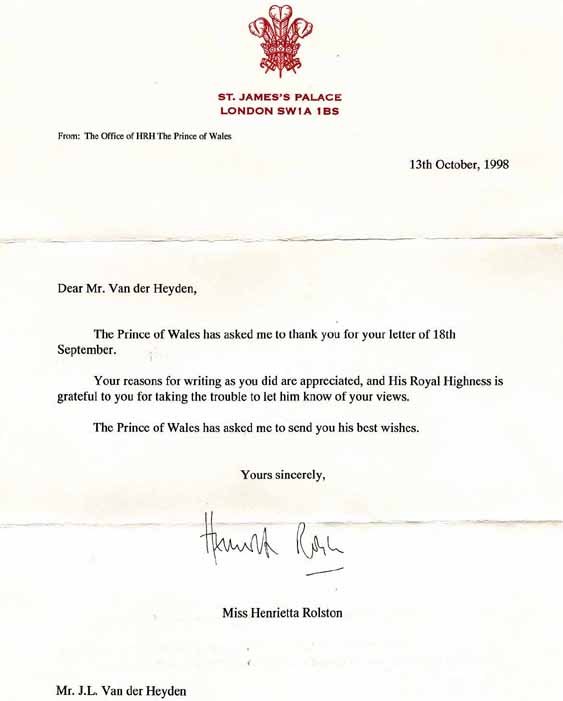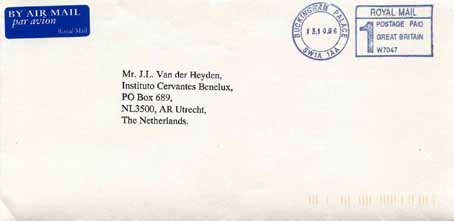 Copy of my Christmas Card 1998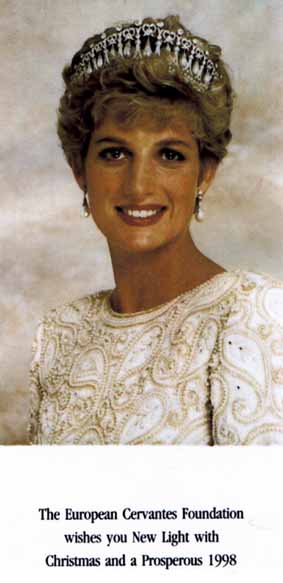 Photograph of Kasteel Landgoed Engelenburg, that probably would have become Our home.