Education & Training, Recruitment & Selection, Management, Business Consultancy, Travels, Translation Services, Interpret Services, Public Relations, Communication, Publishing, Spanish in Spain and Latin America, America, Enterprises, Air Lines, Automation, Internet, Productions, Insurances, Hotels, Football, Princess Diana Stadium, Television, Real Estate.
Instituto Cervantes Neude 30 C NL 3512 AG UTRECHT Netherlands The Prime Minister of Great Britain Mr Tony Blair 10 Downing Street LONDON SW1 UNITED KINGDOM Concerns: FAITH, HOPE AND LOVE Date: 22 September 1997 Reference: JH/TB970922
Dear Mister Blair,
Though I speak with the tongues of men and of angels, and have not love, I am become as sounding brass, or a thinkling cymbal. And though I have the gift of prophecy, and understand all mysteries, and all knowledge; and though I have all faith, so that I could remove mountains, and have not love, I am nothing. And though I bestow all my goods to feed the poor, and though I give my body to be burned, and have not love, it profiteth me nothing. Love sufferth long, and is kind; love envieth not; love vauntheth not itself, is not puffed up, doth not behave itself unseemly, seeketh not her own, is not easily provoked, thinketh no evil; rejoiceth not in iniquity, but rejoiceth in the truth; beareth all things, believeth all things, hopeth all things, endureth all things. Love never faileth: but whether there be prophecies, they shall fail; whether there be tongues, they shall cease; whether there be knowledge, it shall vanish away. For we know in part, and we prophesy in part. But when that which is perfect is come, then that which is in part shall be done away. When I was a child, I spake as a child, I understood as a child, I thought as a child: but when I became a man, I put away childish things. For now we see through a glass, darkly; but then face to face: now I know in part; but then shall I know even as also I am known. And now abideth faith, hope, love, these three; but the greatest of these is love.
I am most grateful to you for that sermon that you pronounced last 6 September in Westminster Abbey. It expresses exactly the love that had grown in me towards Princess Diana as I expressed in my last Weekly Reports to Her during the last months. Also the song Candle in the Wind because on 31 July 1996 I invited the Crown Princes of The Netherlands, Belgium, Luxemburg and Spain into the government of my foundation. On the first of August I went to England and lighted a candle in Canterbury Cathedral for the Princess of Wales. At that time I discovered that She was interested in my plans. On 6 November I appointed Her Queen of Hearts after my visit to our ambassador in BRUSSELS. On 13 November She let me know that she had tried to celebrate Christmas together but She had not succeeded in changing Her agenda. So I had my Christmas dinner alone with an empty chair in Het Stadhouderlijk Hof in Leeuwarden, the cradle of our Royal Family. On 28 December I wrote Her to consider a marriage and decided to found the company Instituto Cervantes in the United Kingdom in order to go to work together. On the 10th of January of this year The private limited company Instituto Cervantes was registered for England and Wales at Companies House Cardiff. On 18 January I was appointed company director. From 17 till 30 April I visited England again starting with attending an evensong in Saint Paul's Cathedral after having delegated my authorities in the United Kingdom to Princess Diana in a written and certified letter (18 April).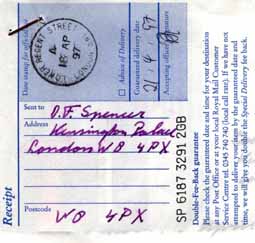 20 April attendance of the service in Westminster Abbey on chair number one. 22 April visit to Christie's, the Changing of the Guard before BUCKINGHAM PALACE and in the afternoon I delivered a painting at KENSINGTON PALACE representing a new organization. 23 April visit to ETON COLLEGE where I agreed to keep Princess Diana weekly informed about my developments. On 24 April I received in Henley-upon-Thames the hidden message that I had to go back to the Benelux till next 28 September.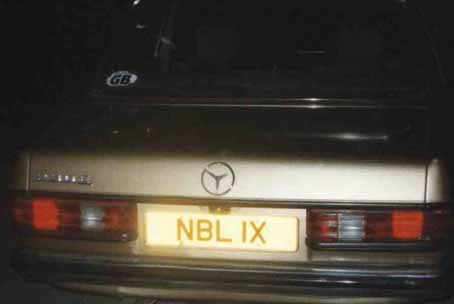 I presented my Business Plan to Henley Management College and Warwick Business School. On Sunday 27 April I turned to the Church of England during a service in St. Mary's Church in Warwick to make an Anglican marriage possible.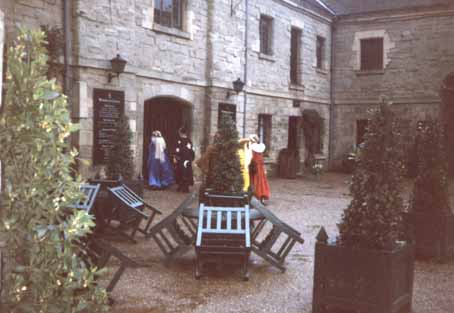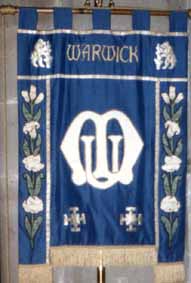 28 April I delivered the plan at the District Court of Stratford-upon-Avon and spoke with the Economic Development Manager.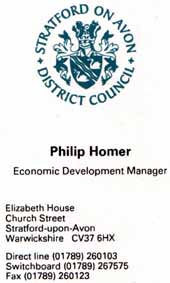 30 April, our Queen's Day, I sent a postcard to My Fifth Rose with the message Mission Completed. Then I moved to Utrecht to start up the process here together with my backing colleagues and in order to build the bridge with the Spanish namesake. During that time I kept Her weekly informed and encouraged Her to get into contact with possible capital investors for The Company.

From 17 till 21 August I visited England again as I reported in my letter British Crisis with the wrong date of last 16 August (corrected 6-7-2003). I delivered the Certificate of Incorporation in KENSINGTON PALACE and HAMPTON COURT PALACE to the guides after having had a guided excursion and left the groups photograph with our government at BUCKINGHAM PALACE.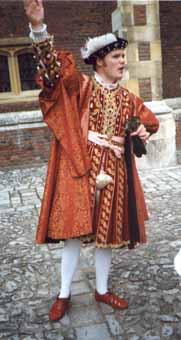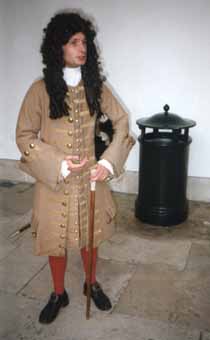 I regret that we have not had the occasion to talk. You were on holiday in Italy at that time. On 27 August I sent the following message to Your Royal Majesty Queen Elizabeth. I see I made some mistakes concerning the dates but nevertheless it has been the most honourable proposal that I ever made in my life. Last 29 August (18.30 continental time) I sent the following fax message to the chairman of Harrods: "This fax message is to inform that I offer your son a 49% participation in the Family Company Van der Heyden/Spencer to be founded. This will be the best solution for the education of Prince William as a future European Sovereign." On 31 August I went hopefully to our Residence. In the train I heard the devastating news and had no other choice then to go to the British Embassy where I left a copy of one of my last letters to The Princess of Wales before the front door. Last Saturday I received two cards on behalf of Your Royal Family. One directed to Instituto Cervantes NBLEW and the other one to J.L. Van der Heyden. If My Lady would have had accepted my proposal you problably would have pronounced your sermon on love next Sunday in the Anglican Church of Palace Het Loo in APELDOORN. Next Saturday there is a Congress of Spanish here in Utrecht. I already sent my business plan to all participants with the request to take over my duties in the Benelux and need to come back to England again to continue the work of Our Princess. Therefore I ask you once again an appartment and office at KENSINGTON PALACE. I will give my support they need to the royal family. Especially my affection for William and Harry. Education is my core business as you know. And I can surely help them in these difficult times. The Princess Diana Fund is the most appropriate instrument to finance my residence in England, because I had that fund already in foundation during Her life as integral part of my Cervantes Project. I already sent copies of my Letters to Diana, Princess of Wales to Her brother Earl Charles. I will also provide them to the British Embassy in order to investigate the bizarre circumstances in Paris. I count on a positive collaboration from your side, Dear Mister Blair, and I am looking forward to your reaction. Yours sincerely, INSTITUTO CERVANTES Netherlands, Belgium, Luxemburg, England and Wales John Van der Heyden Enclosed: Copies of the cards on behalf of the British Royal Family from 19-09-1997 directed to J.L. Van der Heyden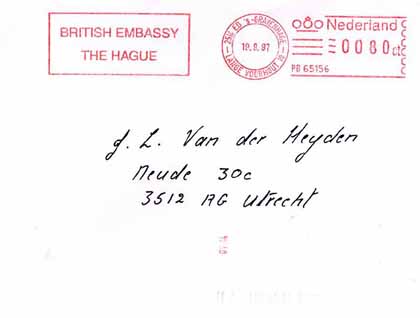 and Mr J.L. van der Heyden, Instituto Cervantes NBLEW;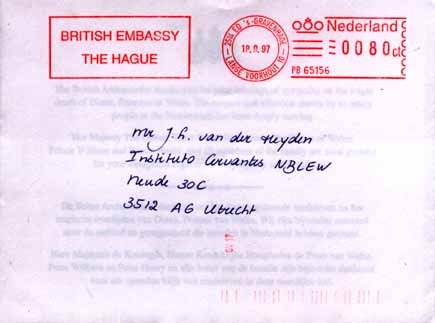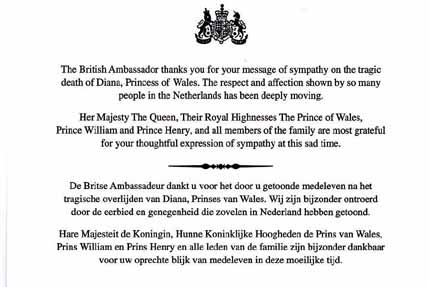 Photograph of the Changing of the Guards, 22 April 1997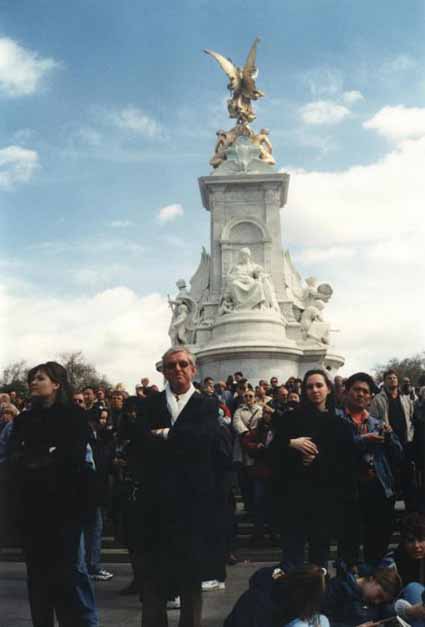 17 FEBRUARY 1998 FINAL END OF SPECULATIONS ON BEHALF OF PRIME MINISTER TONY BLAIR OF THE UNITED KINGDOM