Education & Training, Recruitment & Selection, Management, Business Consultancy, Travels, Translation Services, Interpret Services, Public Relations, Communication, Publishing, Spanish in Spain and Latin America, America, Enterprises, Air Lines, Automation, Internet, Productions, Insurances, Hotels, Football, Princess Diana Stadium, Television, Real Estate.
Saturday, 7-06-1997
I like to encourage you to come to Leeuwarden in the weekend of 12-14 July. This afternoon I spoke with Mrs Van Dijk-de Vries and booked for that weekend in Het Stadhouderlijk Hof. It would be a very appropriate place for the meeting because I noticed that you are a direct descendant of William of Orange. I noticed this today as I received enclosed genealogical information from The King from Nijmegen. I hope I will get an order from the Spanish Institute here in Utrecht. Lord Mayor Opstelten can be a perfect intermediate. I don't know which purchase I have to do for my house but the message reminds me that I still have to write a fax message To Mr Maxwell and Mrs Heppell in Warwick concerning Walcote House in Royal Leamington Spa. I will do that this weekend. I saw you again in The Sun today with the title Diana at the temple of love and the sacred red Chandlo mark on your forehead. It reminds me of the book The Power of Faith of Inyath Khan that I read some years ago. It influenced my life considerably. Faith is a great power but now I realize that love is the greatest power that exists. I hope however to meet you in Het Stadhouderlijk Hof. Finally it is the old palace of the family of some of your ancestors and also therefore worthwhile to be visited. A perfect place for a secret meeting, if necessary.
Red roses again. This time for my son Mark. From Caroline of course. I made my acquaintance with Caroline's mother. It was a very pleasant meeting in the Town's Theatre where Mark played the role of Sergei Anatoly, the Russian greatmaster in the musical Chess. I was very impressed by the professional performance of Mark and his group. It was a love story that moved me very deeply. An evening that I never will forget and I think my son is going to break through now as an artist. He was responsible for the playwrite as well and I think he is heading for a wonderful future. Also his relationship with Lady Caroline seems to go very well. She is a lovely girl and I like her. Now my house is full of flowers and I feel extremely happy.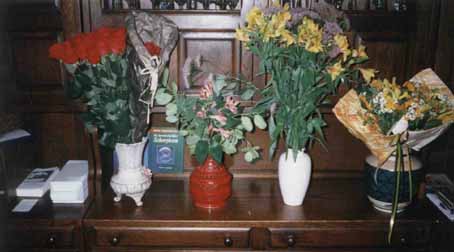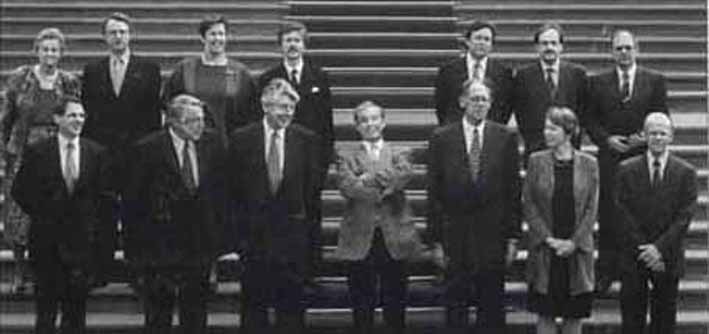 The first PURPLE GOVERNMENT of THE KINGDOM OF THE NETHERLANDS. First row from left to right Minister of Education, Culture and Sciences JO RITZEN, Minister of Foreign Affairs HANS VAN MIERLO, Prime Minister WIM KOK, Founder Instituto Cervantes JOHN VAN DER HEYDEN, Home Secrtetary and Vice Prime Minister HANS DIJKSTAL, Minister of Justice WINNIE SORGDRAGER, Minister van Finance GERRIT ZALM. Back row from left to right Minister of Public Health and Sport ELS BORST, Minister of Agriculture, Nature and Fishing JOZIAS VAN AARTSEN, Minister of Traffic and Water Management ANNEMARIE JORRITSMA, Minister of Defense JORIS VOORHOEVE, Minister of Economical Affairs HANS WIJERS, Minister of Social Affairs and Labour AD MELKERT and Minister of Development JAN PRONK.
MY PHOTOGRAPH ON PAGE 55 OF NRC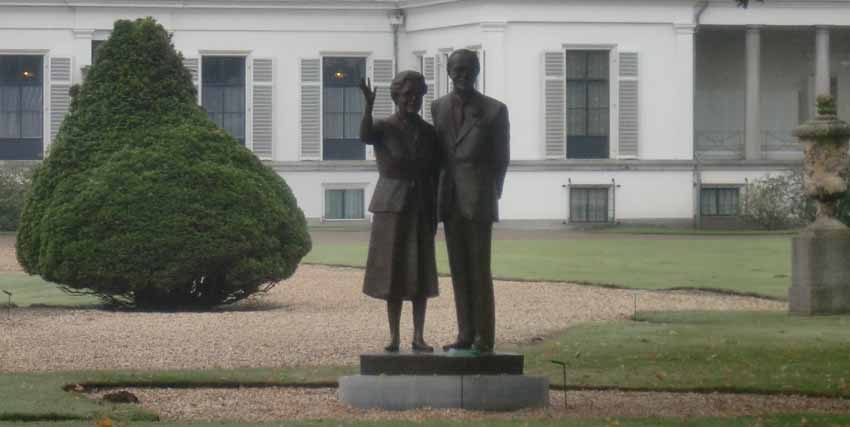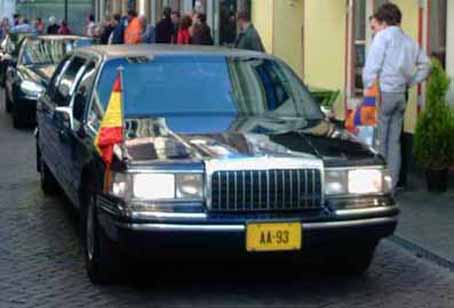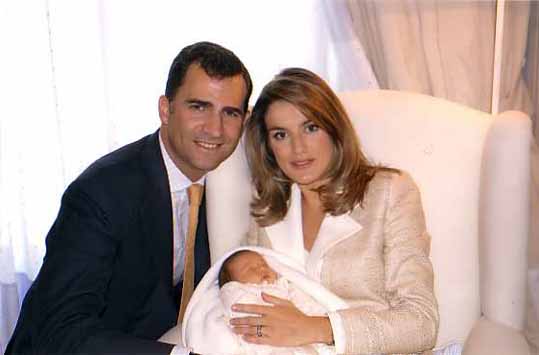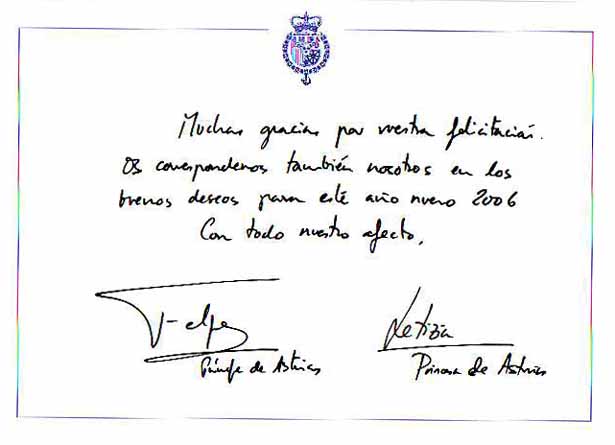 La Corona de la Casa Real Española sirve de símbolo de unidad de nuestros países y muestra la Lealtad Histórica como expresada en el himno nacional de los Países Bajos.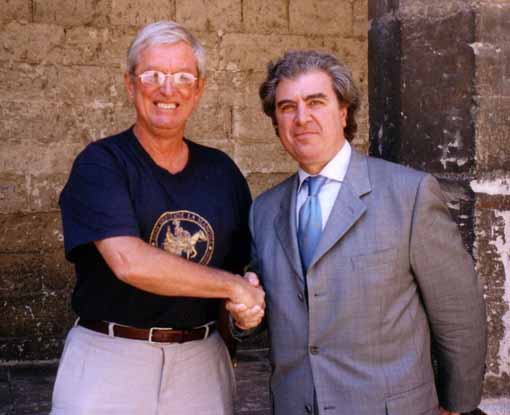 More information at the website of Amazon.com, Wal-Mart and Trafford Publishing Canada.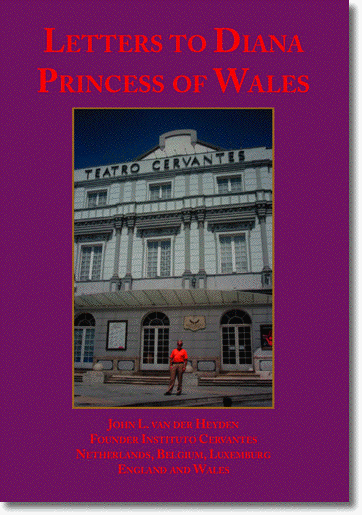 VANAF 16 OKTOBER 2004 HEEFT DE OPRICHTER VAN DE STICHTING CERVANTES BENELUX, EIGENAAR VAN HET HANDELSMERK INSTITUTO CERVANTES IN DE BENELUX EN DE LIMITED COMPANY INSTITUTO CERVANTES ENGLAND AND WALES - OP STRAFFE VAN EEN DWANGSOM - EENIEDER WAAR OOK TER WERELD - VERBODEN GEBRUIK TE MAKEN VAN DE BEELTENIS VAN ZIJN OP 31 AUGUSTUS 1997 TIJDENS EEN ONTVOERINGSPOGING OM HET LEVEN GEKOMEN PARTNER, TENZIJ DIT BINNEN HET KADER VAN DE DOOR HEM VERSTREKTE VOLMACHTEN NADRUKKELIJK IS OVEREENGEKOMEN.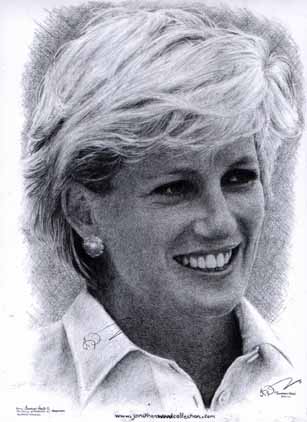 © J.L. VAN DER HEYDEN TORREMOLINOS