Education & Training, Recruitment & Selection, Management, Business Consultancy, Travels, Translation Services, Interpret Services, Public Relations, Communication, Publishing, Spanish in Spain and Latin America, America, Enterprises, Air Lines, Automation, Internet, Productions, Insurances, Hotels, Football, Princess Diana Stadium, Television, Real Estate.
J.L. VAN DER HEYDEN Neude 30C NL 3512 AG UTRECHT Netherlands. Earl Charles Spencer KENSINGTON PALACE LONDON W8 4PX UNITED KINGDOM. Concerns: REPORT 39. Reference: JH/CS971104. Utrecht, 4 November 1997. Dear Charles, The most important message that I can give in this letter is that I nearly every day I report to Mrs Elizabeth Halbertsma in NOORDWIJK and I allowed her to inform you about everything that I have written to her. Nevertheless some personal experiences from my diary.
Tuesday, 7 October 1997
19.00 Train Utrecht-Maarn. Today I received a letter from the secretariat of the Commission Corporate Governance directed to Instituto Cervantes Holding Limited. If the parties involved have done what I requested the (family) company Van der Heyden/Spencer is now a fact. Instead of Diana you are my partner now according to the law. I also sent a letter to the chairman of Harrods in which I advised him to invest the benefit of the selling of the estate of the Dukes of Windsor in Paris in Our Company. In change We can offer him a European citizenship according to the Treaty of Amsterdam for which I am partly responsible. Also Professor Knol is in the picture again. I advised him to work together with Mr Hans Wijers (Minister of Economic Affairs) to work out the Collaboration Treaty with the Spanish Government. 20.03 I think my trip to South Africa will not be necessary at the moment.
Thursday, 9 October 1997
'Do not use any longer an old fashioned way of working. Put emphasize on originality. Wear preferently happy colours and make clear that you are available. Keep the great line before eyes and do not let yourself to be limited'. Yesterday evening many young people were carrying red umbrellas. I carry on with the red and orange combination and the umbrella of the Royal Shakespeare Company. But today it is red. In the future I will buy one with all the colours of the rainbow. The great line is the Corporate Governance. This afternoon I will go to the British Embassy. The letter to Dame Rosemary Spencer says: LETTERS TO DIANA, PRINCESS OF WALES. Limited indicates the Holding Company. I expect an official reaction on my letters. I am available after having restructured my business plan and delegated my actual work to a commission to be established. Stormy weather today. I see an article about Cambridge. It reminds me that I want to visit Kings College next Christmas Eve.
Thursday, 9 October 1997
13.20 Train Utrecht - The Hague. I read in The Sun that 300 Fiats Uno will be investigated. I bring my manuscript to the Ambassador and indicate page 124 of Part Two: In the Fitness I noticed a black and purple umbrella. That black umbrella is very significant. We have to build the business now. I propose you to become President of the Council of Governors of the Holding Company. I will take up the duties of Vice President. Thus We can divide our responsibilities in the United Kingdom and the Benelux, but drawing one line parting from the Recommendations of the Commission Corporate Governance in the Netherlands. 14.15 Delivered the manuscript at the Embassy. 16.20 De Baak. I wrote to EH: "At 14.15 I delivered the manuscript of my Letters at the British Embassy. My contact is Ruth Coward. A conversation with you does not seem necessary yet. I can use the day of tomorrow better to work. I will work out everything on A-4 in an organization profile. I will send you that. As soon as We have reached the fase of the definitive decision taking I will need again a working room and residence at de Baak to keep the communication lines short. Until then I will keep you informed in written. In any case I like to come back to the presentation of the awards of the Businessplan Contest. The Top of the new organization has been filled in already:
President Council of Governors of the Holding: C. Spencer (EW)
Vice President: Johannes L. Van der Heyden (NBL).
To be continued. ¡Un abrazo!
Friday, 10 October 1997
The lecture of yesterday evening was held by Prof.Dr.Ir. Ronald Raans RE, Director KPMG, EDP Auditors. It dealt about Corporate Governance in relation to Information Technology. Herewith you find the reader of this lecture.
Saturday, 11 October 1997
18.05 Train 's-Hertogenbosch - Nijmegen. This morning I met a boy from South Africa. I gave him my card and he told me that you live in one of the suburbs of Cape Town. Of course I will come to visit you when I have the chance. Editor Coutinho is interested to participate. They may publish my letters. But first of all I asked for a Royal Recommendation by the Queen. She will read the manuscript probably today. In Utrecht they played You 'll never walk alone and It's a long way to Tipperary. This evening there is also a football match of the Dutch team with Dennis Bergkamp, most famous in England at the moment. I was surrounded at the station by orange supporters. It reminded me of the T-shirt We want Holland for World Champion that I got probably from Diana. It will be good to have an 'Engeltjepipi' together in due course. 22.35 I see Gerard Jolink on RTL4 singing "No more Bolero" although the Bolero of Ravel is the starting point of The Company pronounced once by Professor Tim Belasco about management: Teaching the Elephant to dance. Belasco is from California, Silicon Valley, United States. I see the football match between Italy and England. Led by Mario van den Ende. From here. In purple. He is a very good referee. England goes to France. Perhaps we will meet in Paris.
Monday, 20 October 1997
16.30 In the train to our historical city of Breda. I visited Breda for the last time in April last year before I went to Salamanca by bus. Arrived in Salamanca I saw myself depicted un the Gaceta de Salamanca as the result of power in Spain. Prime Minister González handed over my keys to his successor José María Aznar. Of course Breda is very known by their former Earls of Nassau from which derived William of Orange, who is an ancestor of Yours as well. Yesterday I had a guided tour through Utrecht from the Domplein to the Neude. The guide was Mr A.B.C. Ravelli, a lawyer from Bilthoven. He told me that the Neude was visited by kings and queens, by princes and princesses. At King Arthur's I met a 25 years old boy. He calls himself The Optimist and invited me to come to Prinsenbeek today, not far from Breda. 17.20 At ROTTERDAM Central Station a lady spoke about the Lion King. They still know me in ROTTERDAM.
Sunday, 26 October 1997
14.00 Wintertime again. Train Utrecht-'s-Hertogenbosch. Had breakfast at King Arthur's where I met an English speaking lady. She was a 99% lookalike of my youngest sister. She was married with an Englishman, but her origin was Dutch (from Assen). I spoke with her about Diana and the models she had to use for her communication. This night I finished the correction of my "Letters" to Her.
Thursday, 30 October 1997
Today I sent a letter to my secretary in England. I translate it for you. Date: 30 October 1997. Concerns: Developments. Dear Mr Manders, I received your invoice of yesterday on behalf of Seagull Legal Services Ltd and paid inmediately. For the good order I report that I sent on last 12 May the following declaration to KENSINGTON PALACE.
"AUTHORIZATION
The undersigned, Johannes Lambertus Van der Heyden, born 9-11-1947 in Nijmegen, Netherlands, legal owner of the trade mark 'Instituto Cervantes' in category 41: education, trainings and courses, and owner of the Limited Liability Company Instituto Cervantes for England and Wales herewith authorizes Lady Diana Frances Spencer, born on the 1st of July 1961 at Sandringham, United Kingdom, to take all legal actions in the United Kingdom on behalf of Instituto Cervantes Limited England and Wales. Given at Nijmegen, Netherlands, 12 May 1997". On 21 April before that I sent the Princess of Wales the following message in a certified letter: "This morning I went to Kensington High Street to open the bank account at NatWest. 30 yards before the office at 10.00 a.m. I noticed a lady with red and purple hair; red, purple and black clothes and a bunch of keys in her hand. I had a conversation with Mr Tony Cottrell, Small Business Adviser of Kensington Royal Garden Branch, 55 Kensington High Street London W8 5ZG. I gave him the business plan that I made for you (15-04-1997, 16:19) and told him that I want to open the account together with you. I showed him the brochure of the Government Game as a prove that the Dutch Government is supporting me and the Letters of Recommendation. I gave him the dates of my secretary in Britain, the Certificate of Incorporation and letter PSU/CO of 18/01/97. He still needs the Company's Memorandum and Articles of Association that I unfortunately left in the Netherlands. I hope you can help me here because I sent you a copy. I hope you will collaborate. To undersign the contract you and me and Mr Manders have to appear together at the office in 55 Kensington High Street. Perhaps the 29th of April would be suitable. I received a message from Colonel Ross from BUCKINGHAM PALACE that he is unable to give permission of watching the changing of the guards from inside because it is for children and disabled people. I am very grateful that he paid attention to my request and I will go nevertheless and see it from the outside. Every changing process takes its time. Mr Cottrell also asked me a confirmation of my future UK address, my Overseas Reference of the ING Bank and of Mr Manders a six months worth bank's statement and confirmation of UK address and identification. I can arrange this only after having visited the Lord Mayor of Stratford that I intend to do next 28 of April. This evening I will go to the Earls Court Gym at 8 p.m. Finally this letter is to authorize you to act on my behalf before NatWest Kensington Royal Garden Branch. P.S. I did not fill out the registration form because I want you to be the most important company director. Copied by "Lucy"". On 18 August I presented the Certificate of Incorporation personally to a member of the household after a guided tour through KENSINGTON PALACE. In an earlier stage I also sent the Company's Memorandum and Articles of Association to KENSINGTON PALACE and therewith transferred formally all my authorities in the United Kingdom to Lady Di. On 29 August 18.30 I sent the following fax message to the Chairman of Harrods Knightsbridge, Mr Mohamed Al Fayed: 'Dear Mr Al Fayed, This fax message is to inform that I offer your son a 49% participation in the Family Company 'Van der Heyden/Spencer' to be founded. This will be the best solution for the education of Prince William as a future European Sovereign.' Thirty hours later the tragic accident in Paris took place. Formally Diana's brother Charles is now the party entitled to take over the authorites of his killed sister. Nevertheless I authorized my former colleague Drs E.H. Halbertsma, now statutary director of the Management Centre VNO-NCW 'de Baak' in NOORDWIJK, in written to represent legally the Foundation Cervantes Benelux, the Instituto Cervantes Benelux and the Limited Company Instituto Cervantes Limited England and Wales and requested her to take steps in order to change the Limited in a holding with business units and opening the bank account at NatWest in Kensington. During the period half September - half August (must be: half October) I attended on de Baak the cyclus of readings 'Corporate Governance' and afterwards introduced the recommendations of the Commission Corporate Governance in my Business Plan concerning the governmental structure. Some time afterwards I received from the Commission a letter directed to Instituto Cervantes Holding Limited. Therefore I part from the idea that Miss Halbertsma regarding this matter has taken this responsibility on my request. Afterwards I appointed myself Vice President of the holding company. My function as secretary of the Foudation Cervantes Benelux will be given to someone else as soon as a group of governors has declared themselves prepared to take over my responsibilities concerned. As my secretary I consider it important that you have knowledge of this, as well as of my last version of my policy plan that you find herewith on floppy disk. With kind regards, INSTITUTO CERVANTES HOLDING LIMITED. J.L. VAN DER HEYDEN, Vice President. Enclosed: Eleventh Redesign Business Plan Instituto Cervantes Netherlands, Belgium, Luxemburg, England and Wales on floppy disk in ClarisWorks (Macintosh)"
Friday, 31 October 1997
Utrecht-BRUSSELS. 9.30 ROTTERDAM Central Station. Today there is extra control at the station. Security first.
18.50
We will be The Number One
The Power of One
Meadows/Hale
Europe Free Enterprise
This day is the first day of the rest of your life
Jerry and Cherry Meadows
Tripple Diamond Direct
Tyler and Debby Libby from Maine decided to become millionairs. They are governors in Maine. They were inspired by Jerry Meadows and Ron Hale.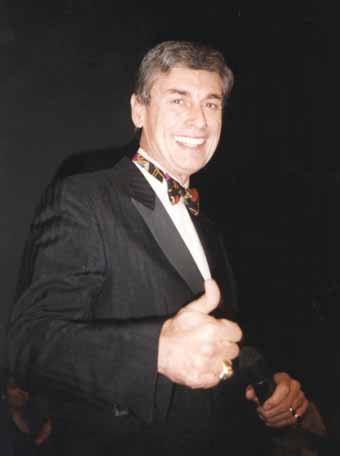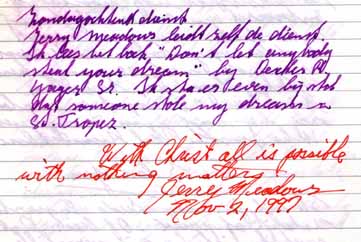 They have 15 "second homes" all over the world. Good investors in Cervantes USA.
Saturday, 1 November 1997
Don't compete with others
Inspire them
18.00 h.
Bar Karaoke:
New York, New York!
I can make it there
It's up to you.
The subtitles are in green this time.
Let it be
Whisper words of wisdom
Let it be
Let it Happen!
Contact: barman Alain.
"Give other people the strength to sail on your direction"
Sunday, 2 November 1997
Sunday Morning Service. Jerry Meadows leads the service himself. I read the book "Don't let anybody steal your dream" by Dexter R. Yager Sr. I remain a while by the idea that someone stole my dream in St. Tropez.
With Christ all is possible
with nothing matters
Jerry Meadows
Nov 2, 1997
That was a warm embrace. I am convinced that Jerry also will become a good friend, commercially as well as privately. I informed him about my plans and he reacted with much interest.
Basics for the Business (Debbie)
* Strong foundation
* Strong marriage
* Forget and carry on
* One has to remember that we chose each other
* Don't forget that We are the same team
* Accept each other's difference
* The grass is ever greener on the other side but you have to mow it
* Love is not only a feeling but also an action word
* Give your partner the time to grow
* When you know that what you do is good it will become a success
There are only three answers to Our questions: "No Sir, Yes Sir and No excuse Sir" (Tyler Libby).
* One can only conquer your past by focusing on the future
* Everything what we do is the result of the things that we did not want to do
* When you are riding your horse and you keep focusing on your goals, you will reach your goals. We will reach Our Dream. It does'nt matter if one has to solve his or her problems in the meantime.
* We have to love each other because we have no other choice.
* Things will every time become more beautiful when you get through the "stuff".
* In every person there are three entities:
1. the public (what everybody sees). In public we retray what others like us to retray.
2. the private person: our closest, closest friends.
3. the personal person: the only person.
This is the only person who knows JOHN VAN DER HEYDEN (and Jesus Christ) although Jesus is the projection of my inner soul. When Jerry Meadows speaks about Jesus Christ, he speaks about himself. Jesus is only a tool to express one's inner person (Recognition). The peaceful are the powerful. We have to crash through our frustrations and adjust our agendas. That is important. Laugh yourself through your frustration point. Don't take everything too serious in partnership. The highest level in communication is the question:
What can I do to help?
How to get through difficult times (Cherry):
* Make a positive picture about your future.
* An example: Charles Spencer once said "The paparazzi once will be her death". Don't say such things.
* Tell things with a positive outcome.
* Do what's right and surround yourself with positive people.
* It's not important what you are, who you are, but where you are going.
* All my failures are the basis of all my successes.
* I am not measured by the number of times I failed but by the number of times that I succeeded.
The remark about you, dear Charles, reminds me of your statement that she needed no royal title to continue to generate her particular brand of magic. The real truth is in fact that Diana did not need a royal title from the Queen, because I gave her that title back on a complete legal basis. I even gave Her an imperial title. You can read it in my letters to Her.
Some things leaders should do (Jerry):
* Promotion, selling: books, tapes, functions. But first be there personally. I am the motivation. The person is important.
* Re-educate everyone in the organization.
5 Steps to make the organization work
1. Written list of people.
2. Read and listen.
3. Set an appointment for a new meeting: schedule with meetings.
4. Attend a seminar once a month.
5. Use the products and promote to use the products.
Always promote the activity with the reward. A leader leads by example. Seminars are organized in a rally. Don't oblige people to work but inspire them. Encourage them with compliments. Promote their better self image. Say: "You are good in this and you are good in that." A leader sets a good example, has a good attitude, does'nt argue. He sets a good example by his appearance. Looks at himself in the mirror. He loves himself. The Bible says: love another like you love yourself. You will always love other persons when you love yourself. Your smile is important. It tells other people that Your Heart is at home.
Be Red, Purple, Orange
Ask yourself always: Do I look as the President of my own business?
* A leader is not afraid when he is not appreciated. Appreciation starts about three deep. Don't worry about it and continue to help each other.
Winning friends and invest in people. That is Our Business. Some people did not realise that they were in the People Business. We don't want to see people moving the products outside their door. We have two ears and one mouth. Use them in this proportion.
Tuesday, 4 November 1997
Today I sent the following letter to Christie's in London: The Red Carpet. For the good order I let you know that I send copy of this letter to Miss Halbertsma. As I promised to her you also find my letters to her on floppy disk. Hope to meet you soon. Yours, JOHN VAN DER HEYDEN Enclosed: Letters to Elizabeth III on floppy disk in ClarisWorks (Macintosh).

4 JULY 2004 RENEWED VISIT ON BEHALF OF EARL CHARLES SPENCER
LETTER TO LADY ELIZABETH HALBERTSMA: REPORT TO ENGLAND